This Blueberry Cobbler Cake is a perfect mix of a cobbler and a cake. It's a great treat to bring to a potluck!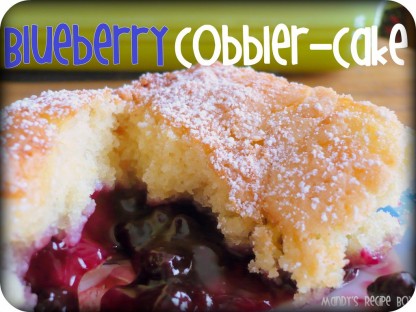 One of my favorite desserts, right here. It tastes like the baby of a fruit cobbler and a cake. Blueberry is my favorite pie filling so that is what I used. You can use any kind you like. Strawberry and raspberry would be heavenly, too. Just remember what I said about the baby thing. Once you eat this, you'll know. If you have leftover pie filling, save it and make a few of these little
pie babies
. Boy, what's with all this "baby" talk? Don't go there…
Blueberry Cobbler Cake
Ingredients
1 c. butter
1½ c. sugar
4 eggs
1 tsp. almond extract or vanilla extract
2 c. flour
2 tsp. baking powder
21 oz. can blueberry pie filling
powdered sugar for dusting
whipped cream
Directions
Cream together butter, sugar, and eggs until fluffy.
Add the almond or vanilla extract. Stir in flour and baking powder until smooth.
Put the batter in a greased 9x13 pan. Spoon the pie filling into the cake, in 16 spots, spacing 4 spoonfuls evenly in each direction.
Bake at 350 degrees for 45-50 minutes. Filling will sink into the cake while baking.
Serve warm. Dust with powdered sugar and add a dollop of whipped cream on top of each serving, if you want.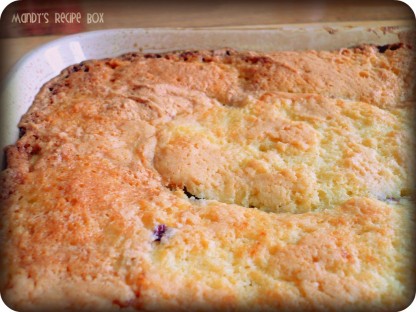 Related articles across the web