This BBQ Chicken Dip is the perfect dip for game day and tailgating parties. It's delicious on tortilla chips but would be great on crackers as well.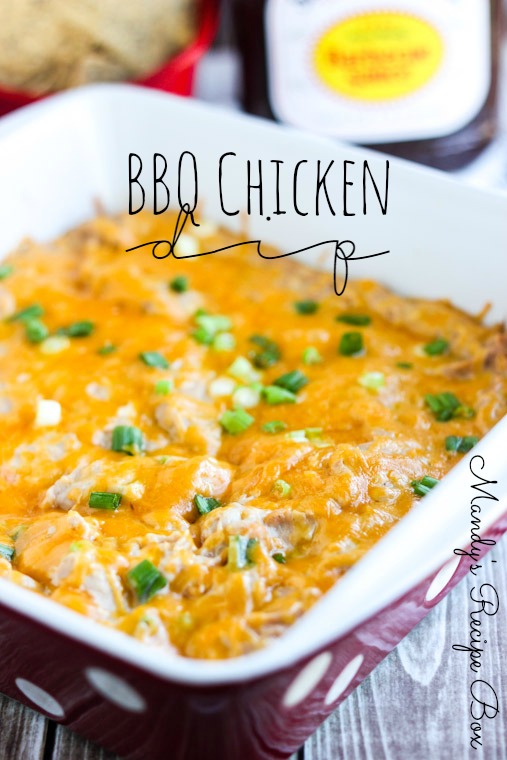 We all know the real purpose of football games. It's the food. Because why else would we sit around watching guys knock each other down and try to catch a ball and get concussions? For.the.food. Obviously. Unless it's the Super Bowl. Then, it's for the food and commercials. You know I'm right.
When I made this dip, I used Sweet Baby Ray's Original Barbecue Sauce. But I would love to try it using the Honey Chipotle Sauce or the Sweet Vidalia Onion. Amazing. I've used Sweet Baby Ray's barbecue sauce for years. It's so good. The flavor in this BBQ Chicken Dip comes out so nicely. You gotta make it for your next football game viewing (though I think watching Gilmore Girls on Netflix is a better use of time).
Also be sure to check out the
Pass the Sauce
contest. 
The contest allows you to send your football rivals (your friends who root for different teams!) some fun smack talk to enter to win a year's supply of Sweet Baby Ray's! Simply head to the 
contest on SBR's Facebook page
, pick the type of cheeky smack talk card you want to send, customize it how you'd like, and send the card to a friend via email or Facebook. You get entered to win one of 50 cases of a year's supply of SBR! Plus, the best part is both you and the friend get a coupon for $1 off two bottles of SBR. 
Connect with me…








BBQ Chicken Dip
Ingredients
12 oz. cooked chicken, shredded (you can use rotisserie or canned also)
8 oz. cream cheese, softened
¾ cup Sweet Baby Ray's Barbecue Sauce
¼ cup ranch salad dressing
¼ cup sour cream
2 cups shredded cheddar cheese
1 green onion
Directions
Preheat the oven to 350 degrees.
Mix together the cream cheese, barbecue sauce, ranch dressing, sour cream and half of the cheddar cheese.
Add chicken and stir.
Place into a greased 8×8 square pan.
Top with remaining cheese and green onions, reserving the green parts for later.
Bake until bubbly for 20-30 minutes.
Top with reserved green onion tops.
Serve.