This has got to be one of my favorite ways to eat zucchini. My mother-in-law first made this Zucchini Casserole Recipe and I had never had it and now I make it every summer when there is an abundance of zucchini. It is just so good.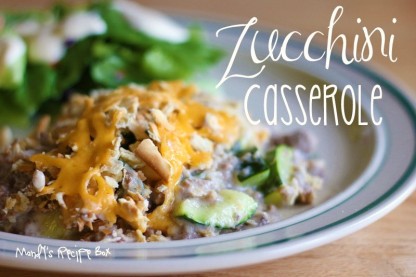 Sometimes people ask why I put crushed saltine crackers on this casserole. My answer? Why not? It just gives it something extra and I love it. Plus, that's the way my mother-in-law makes it and why mess with perfection? I look forward to this Zucchini Casserole every season when zucchini is so plentiful. Do you guys have a favorite seasonal dish that you just love and can't wait to make year after year? This is one of those recipes.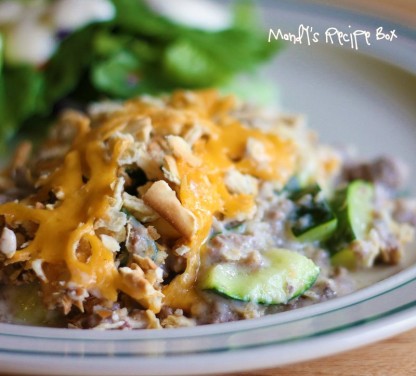 Zucchini Casserole Recipe
Ingredients
1 lb ground beef
1 onion, diced
2 cans cream of mushroom soup
zucchini
crushed soda crackers
1 cup shredded cheddar cheese
Directions
Cut up the zucchini into chunks and steam them. I used three young zucchini, but you can use however much you like. Put it in a 9x13 dish.
Brown the ground beef and onion. Add the soup. Stir together and spread over the zucchini.
Top with crushed crackers and grated cheddar cheese. Again, use however much you want.
Bake at 350 for about 10-15 minutes, just to melt the cheese and heat through. Enjoy!
Check out these zucchini recipes!
Pesto Zucchini Noodles with Roasted Tomatoes and Grilled Chicken from Closet Cooking
Corn and Zucchini Saute from Little Spice Jar
Zucchini Breakfast Casserole from Simply Recipes