Wonton Kisses are easy to make and perfect little bites with chocolate centers. Make them for your sweeties on Valentine's Day!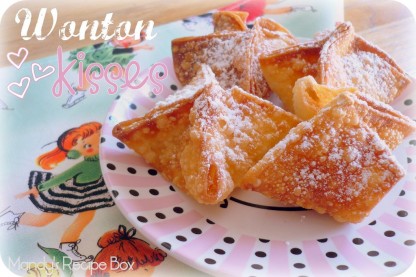 Little bites of heaven. These cuties are perfect for Valentine's Day. Or a Friday. Or a Monday for that matter. They take two seconds to make. Well, not two seconds, but you catch my drift. Quick. That's my motto in case you haven't figured that out yet. Quick, easy & delicious. That's my rule for cooking and baking. These are sure to please anyone you give them to. It would make a perfect gift in a cute little box. The best part about this recipe (besides how amazing they taste) is that you can make a many or little as you want.
Wonton Kisses
Ingredients
wonton wrappers
Hershey's Kisses
water
oil for frying
powdered sugar
Directions
Place a Kiss (or two) in the center of each Wonton wrapper.
Brush the edges with water and bring the corners up to seal.
Place in hot oil in a deep fryer or a skillet. Let them cook till golden brown. Make sure to turn them so all the sides get cooked. Remove and drain on paper towels.
Dust with powdered sugar.