Whole Wheat Blueberry Muffins are a great way to start the day. Add some fresh fruit and you have a great breakfast.
Update… I had my baby boy the day this post came out! Isaac Lance Bird is perfect and momma is doing well. More to come later!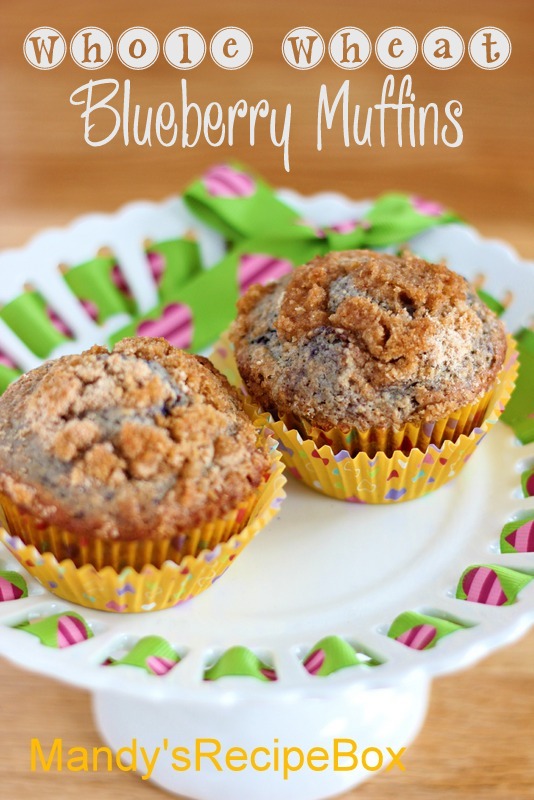 So since I'm having a baby in a couple days, I thought I would post something healthy.
Because I'm gonna need to eat healthy to get back to pre-baby weight.
I hate dieting.  I hate feeling restricted.
These muffins are yummy and healthy at the same time. I did the full whole wheat flour, but you could do half whole wheat and half white if you aren't ready for the whole shebang.
This will be my last post for a while, but don't you worry…
I have a fabulous line-up of my amazing blogging friends who will be filling in for me. Be sure to check back because you won't want to miss what they have to share with you, I guarantee it!
And I will most likely be blowing up
Instagram
with pics of my new love so follow along. I will also introduce you to our new daughter/son.
Whole Wheat Blueberry Muffins
Ingredients
Streusel Ingredients
¼ C. white whole wheat flour
¼ C. packed brown sugar
¼ tsp. ground cinnamon
2 Tbsp. cold butter
Muffin Ingredients
¾ C. milk
¼ C. butter, melted
1 egg
1½ C. white whole wheat flour
½ C. sugar
2 tsp. baking powder
½ tsp. salt
1 C. blueberries (fresh or frozen)
Directions
Heat oven to 400 degrees F and line muffin cups with paper baking cups or grease bottoms of the pan.
In a small bowl, mix dry streusel ingredients.
Cut in cold butter until crumbly. Set aside.
In a large bowl or your mixer bowl, beat milk, melted butter, and egg until well mixed.
Stir in flour, sugar, baking powder, and salt just until moistened.
Fold in blueberries.
Divide batter evenly among muffin cups; sprinkle each with streusel.
Bake 20 to 25 minutes until done.
If using greased cups, let sit 5 minutes before removing from pan. If using paper cups, remove immediately.