Hi everyone! It's Jaren from Diary of a Recipe Collector. I'm so super ecstatic to be a monthly contributor for Mandy's Recipe Box! I can't wait to share some of my favorite family-friendly recipes with a little southern charm each month. Today I'm bringing you the easiest, gooey pumpkin blondies made with white chocolate chips and toffee bits. One bite and you'll say, "Forget the pumpkin pie and give me some pumpkin blondies!"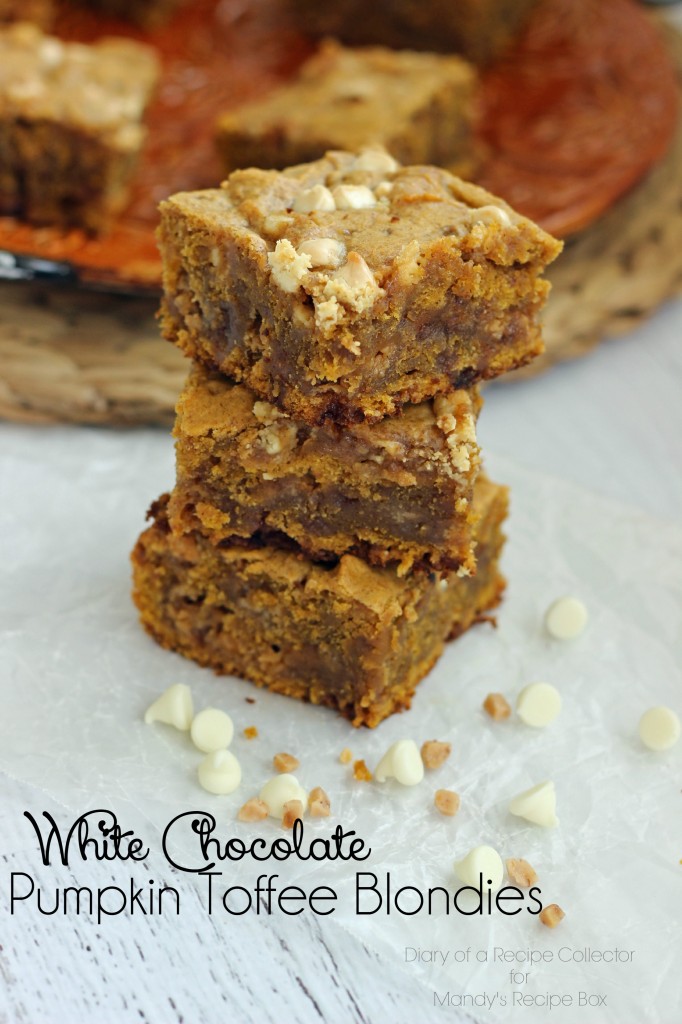 I really love any and all pumpkin-themed desserts. They are just so comforting. My house smelled Ah-MAZING when I made these little treats. They brought me back to Thanksgiving morning. I can't wait for the cool, crisp air and the sounds of the Macy's Thanksgiving Day Parade in the background as I get all my dishes ready for the big feast. I've loved it since I was a child. These little blondies totally took me back to that place. Don't you love how food can do that? I do!
They come out super moist too. Double the recipe if you have a large family because they will go back for seconds!
White Chocolate Chip Pumpkin Toffee Blondies
Author:
Jaren | Diary of a Recipe Collector
Ingredients
1 cup packed brown sugar
1 stick butter, softened
1 tsp vanilla
1 egg
1½ cups flour
1 cup canned pumpkin
2 tsp pumpkin pie spice
¼ tsp cinnamon
1 tsp baking powder
¼ tsp salt
½ cup toffee bits
½ cup white chocolate chips plus ¼ cup for topping
Directions
Preheat oven to 350 degrees. Spray an 8 inch pan with cooking spray.
In a large bowl, beat butter, brown sugar, and vanilla until creamy.
Add egg and beat until fluffy.
Add pumpkin and beat again.
Add flour, pumpkin pie spice, cinnamon, baking powder, and salt. Mix on low speed until well blended while scraping the sides of the pan.
Fold in toffee bits and white chocolate chips. Spread batter into a prepared pan. Sprinkle the top with the remaining white chocolate chips.
Bake 38-40 minutes or until toothpick comes out clean. Let cool before cutting.