Thick Fudge Brownies start with 2 boxed mixes, but end up way better. And the frosting? Goodness. It's so perfect with the brownies that I insist they go together for the rest of the days.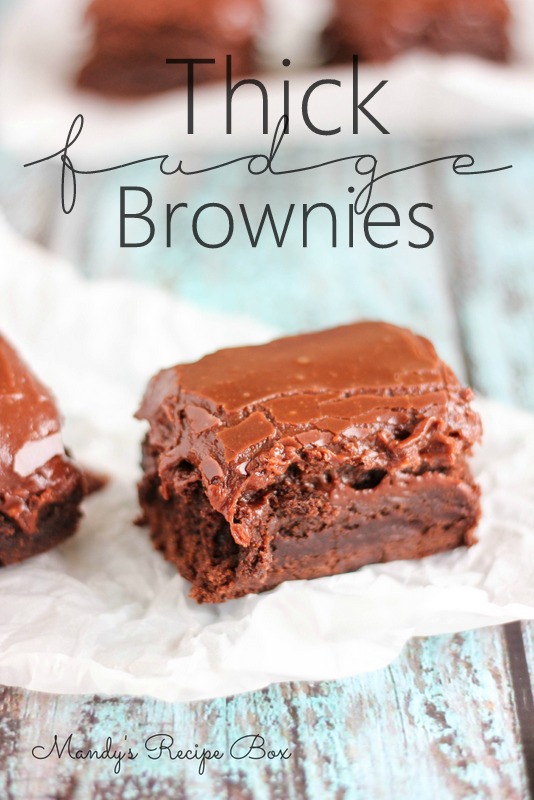 Thick Fudge Brownies
Ingredients
Brownies
2 boxes (about 20 oz. each) brownie mix (I used one milk chocolate and one dark chocolate)
1½ sticks butter, melted (12 Tbsp.)
½ cup buttermilk
4 eggs
2 tsp. vanilla
Frosting
1½ sticks of butter (12 Tbsp.)
½ cup unsweetened cocoa powder
½ cup milk
5½ cups powdered sugar
Directions
Preheat oven to 325 degrees F. Spray or line a 9x13 pan with foil. Set aside.
In a large mixing bowl, combine the brownie mixes, melted butter, buttermilk,eggs and vanilla; mix with a wooden spoon until completely mixed.
Pour into pan and bake 45-60 minutes, or until toothpick inserted comes out with crumbs, but not batter.
Prepare frosting by melting the butter in a saucepan on medium-low heat.
Whisk in the cocoa powder and milk.
Cook and stir until mixture thickens and just starts to boil.
Remove from heat and whisk in the powdered sugar until smooth.
Pour over cooled brownies and spread quickly.
Let set before cutting brownies. You can put them in the fridge to quicken the set up.
Makes very thick brownies so a little piece goes a long ways!