Taco Won Tons are little bites of taco wrapped in a won ton wrapper. So easy for a quick appetizer or light meal.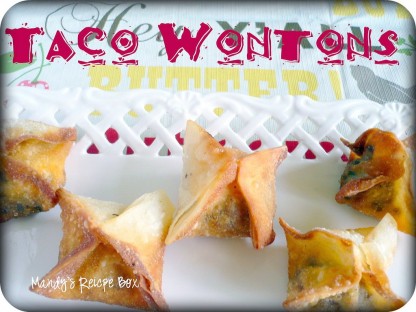 I shared these little guys over on
Chef in Training
last Saturday, but I wanted to share them here in case you missed them. I found these in my new favorite
cookbook
that I won. I didn't want something that I had to use my oven for since it was blasted hot outside. These tasty little  guys are perfect as an appetizer or main dish. I goofed and used actual won ton wrappers instead of egg roll wrappers, but they were still just as good. Just smaller.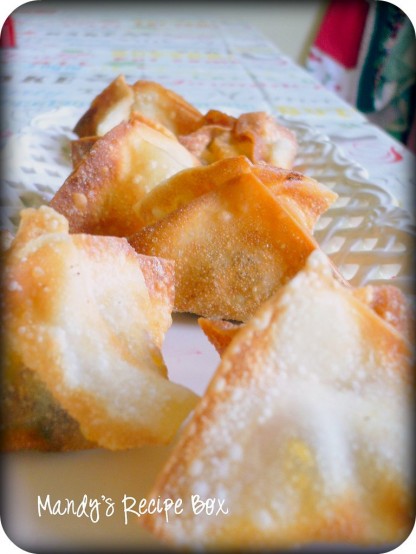 Taco Won Tons
Ingredients
1 lb. ground beef
l package Taco Seasoning
12 oz. refried beans
12 egg roll wrappers or won ton wrappers
shredded cheddar cheese
sour cream
salsa
Directions
Brown the ground beef and season with taco seasoning. Add beans and cook till warm.
Take a wrapper and place a spoonful of meat mixture in the center. Top with some cheese. Brush some water along the edges and fold corners up to meet. Seal.
Deep fry until golden brown. Repeat with remaining wrappers.
If using won ton wrappers, make as many as you want and freeze the rest of the meat mixture for another time.
Serve hot, topped with sour cream and salsa, if you desire.