I'm sharing #Freshworks in my life as part of a Rubbermaid Freshworks sponsored series for Socialstars™
Having ready-to-eat fresh berries and lettuce on hand makes it easy to eat healthy. I'm showing you an easy Summer Berry Salad thanks to Rubbermaid Freshworks containers as well as my healthy eating tips!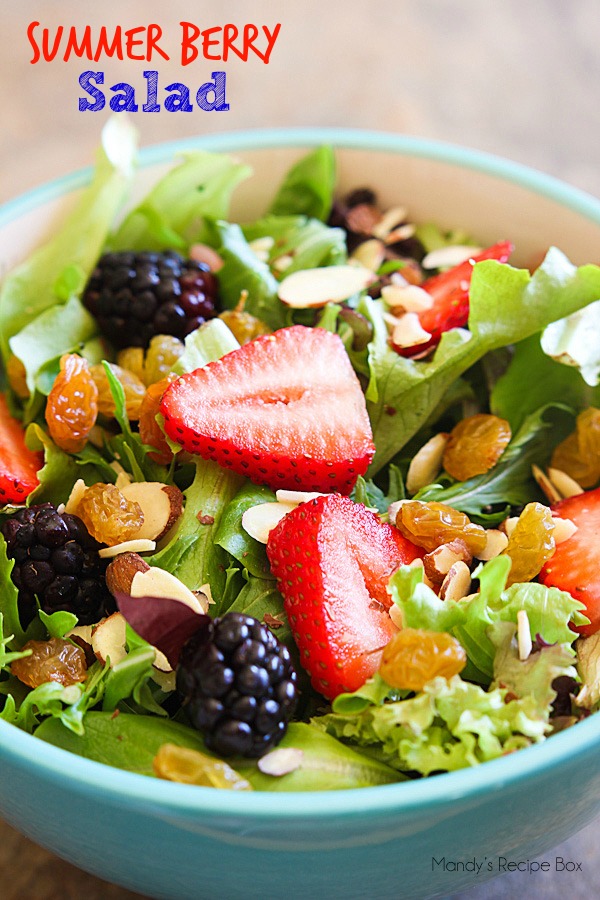 Summer is here along with all the delicious seasonal berries and lettuce that comes with it. I love this time of year! There's nothing better than picking berries and lettuce right out of the garden. I hate to waste a single thing after all the hard work it takes to grow them. I use Rubbermaid Freshworks to keep my berries and lettuce fresh as the day it was picked. It keeps for at least 3 weeks! I am telling you no lies, three weeks. I tested it out myself and the Freshworks containers are lifesavers!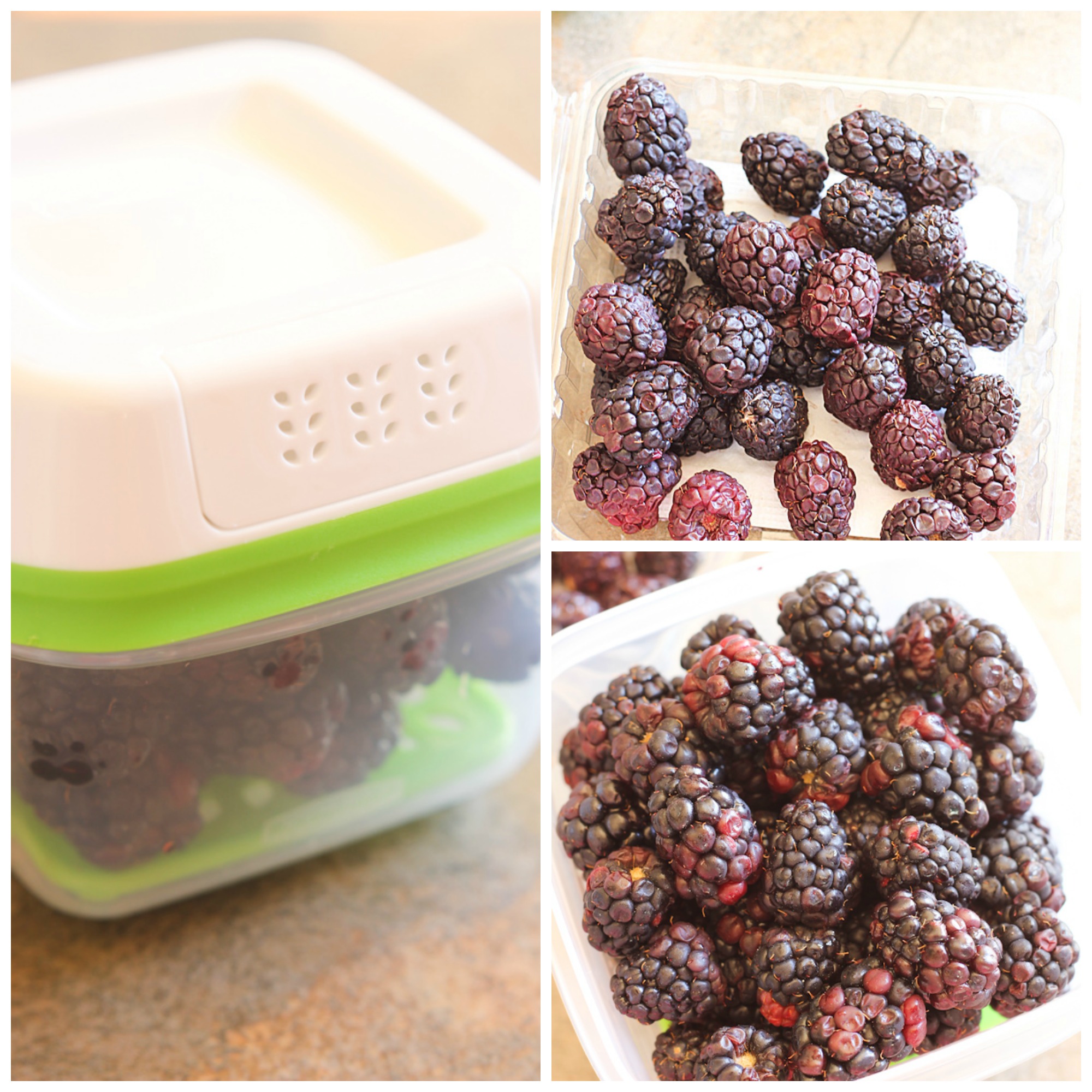 The blackberries on the top right in the above photo are from just sitting in my fridge without being in the Rubbermaid Freshworks container. The blackberries on the bottom right were kept in the Rubbermaid Freshworks container. Both sat in the fridge for almost three weeks. Look at the difference!
Rubbermaid FreshWorks™ Produce Saver is a NEW food storage container that uses revolutionary FreshVent™ technology to keep produce fresher up to 80% longer.

*

when compared to store packaging

PRODUCT pricing by size: Small: $9.99; Medium: $12.99; Large: $15.99

Dishwasher safe and BPA free.

CrispTray™ – Elevates produce away from moisture and promotes proper airflow to help prevent spoilage.

Revolutionary FreshVent™ Technology – Patented membrane naturally regulates the flow of O2 and CO2 to create the optimal environment to keep your produce nearly as fresh as the day it was picked.
If we have fresh produce already prepared and ready-to-eat, my family and I eat better. It sounds funny but when I set out a tray of fruits and veggies my family goes to town on it. But if the same fruits and veggies are in the fridge unprepared, they don't eat them nearly as much. So I love to keep my berries and lettuce ready to go making it easier for us all to eat healthy.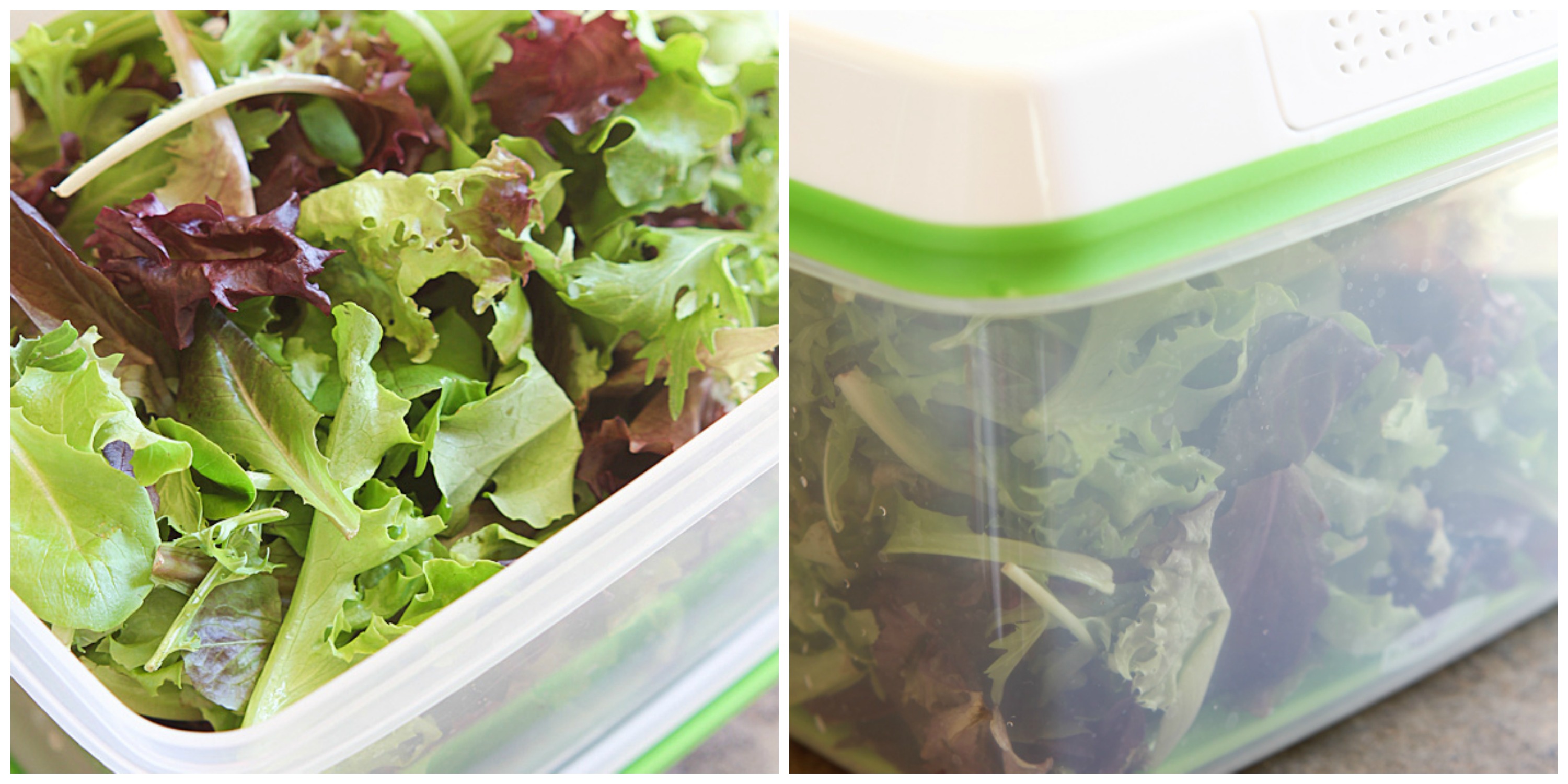 Some other tips to eating healthy that I love:
As soon as you get home from the grocery store or farmer's market, wash all the produce and cut some up so it's ready to eat without extra work involved.
Cook your own meals at home. This way you know exactly what you are eating and can control what goes into your food.
Eat slowly. It takes a few more minutes for your brain to tell your body it's full so slow down.
Swap out at least one serving of unhealthy food like chips or sweets for veggies and fruits or salads.
Eat lots of fiber. It keeps you regular and lowers your risk of heart disease, strokes, diabetes and helps you lose weight. Good sources of fiber include whole grains, wheat cereals, barley, oatmeal, beans, nuts, vegetables such as carrots, celery, and tomatoes, and fruits such as apples, berries, citrus fruits, and pears.
For this Summer Berry Salad I just tossed together some spring mix lettuce, sliced strawberries, blackberries, golden raisins and sliced almonds. Then you drizzle on a balsamic vinaigrette dressing. Now you have a light healthy summer salad to go with your grilled chicken or as a light meal.
What are some of your healthy eating habits? I would love to hear them!
Be sure to save this to your favorite Pinterest boards!