Who needs meat when you have all this cheese? Ricotta, Mozzarella, and Parmesan. So good. It's a great meal for a meatless night. Ooey gooey goodness. What are you waiting for? Get cooking!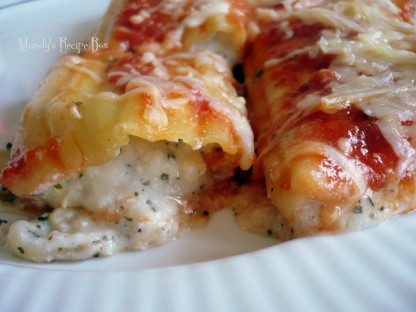 Stuffed Manicotti
12 large manicotti shells
4 C. shredded mozzarella cheese, divided
6 Tbsp. chopped fresh basil or 2 Tbsp. dried basil
1 (26 oz) jar of spaghetti sauce, divided
1/2 C. grated Parmesan cheese
Directions
Preheat oven to 350 degrees. Spray 13 x 9 dish with cooking spray.
Cook the pasta. Drain; rinse with cool water. Let pasta dry on paper towels.

For the filling, in a bowl, stir together 3 C. mozzarella with the ricotta and basil.

Using a spoon, carefully stuff pasta with cheese mixture. Or you can put the filling into a gallon sized zip close bag, cut the end off a corner and pipe into the noodles.

Spoon 2 C. spaghetti sauce into baking dish. Arrange stuffed shells over sauce.

Pour remaining spaghetti sauce over pasta. Sprinkle with remaining mozzarella.

Bake manicotti for 15 min. Sprinkle with parmesan. Bake for 10 min. longer. Serve.