Strawberry Vanilla Yogurt Cake is full of fresh strawberries and has a delicious vanilla flavor throughout.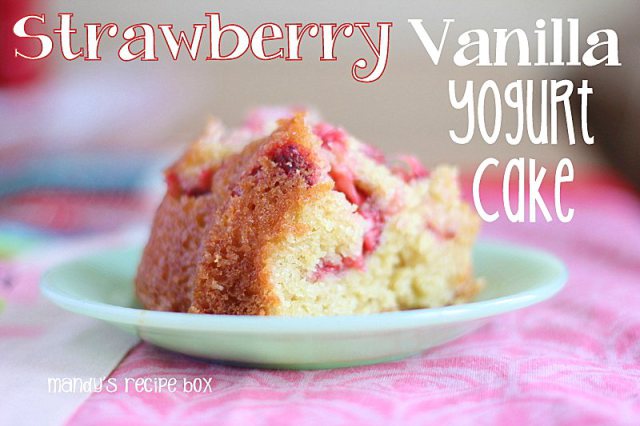 Strawberry Vanilla Yogurt Cake
Ingredients
1 c. butter, softened
2 c. sugar
3 eggs
2 tsp. vanilla extract
2½ c. flour, divided
½ tsp. baking soda
½ tsp. kosher salt (coarse salt)
1 (6 oz.) Tillamook Light Vanilla Bean Yogurt
1½ c. diced strawberries
Directions
Preheat oven to 325 degrees. Grease and flour a 10 inch Bundt pan. Sift together 2¼ cups of flour, baking soda and salt. Set aside. Cream together the butter and sugar until light and fluffy. Beat in the eggs one at a time. Alternate beating in the flour mixture and the yogurt, mixing just until incorporated.
Toss the strawberries with the remaining ¼ cup of flour.
Gently mix them into the batter.
Pour the batter into the Bundt pan.
Bake in the preheated oven for 60 minutes, or until a toothpick inserted into the center of the cake comes out clean.
Allow to cool at least 20 minutes in the pan, then turn out onto a wire rack and cool completely.
Notes
Feel free to drizzle some Vanilla Glaze over the top. Simply mix together 1 c. powdered sugar, 2 Tbsp. milk and ½ tsp. vanilla and drizzle over the cooled cake.