I found these cookies on Taste of Home. My kids are gonna love 'em. Perfect treat for Valentine's Day. Strawberry and chocolate just go together. I hope you enjoy your loved ones on this day of love!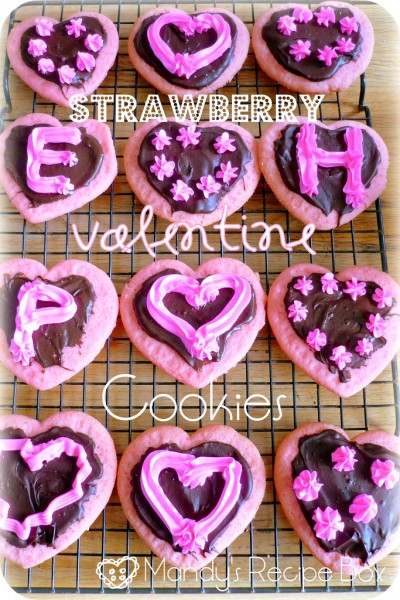 Strawberry Valentine Cookies
2/3 cup butter, softened
2/3 cup sugar
1 egg
1 tablespoon lemon juice
2 cups all-purpose flour
1/2 cup strawberry drink mix (Nesquik)
2 teaspoons baking powder
1/2 teaspoon salt
GLAZE:
1 cup (6 ounces) semisweet chocolate chips
1 teaspoon shortening
FROSTING:
1/3 cup butter, softened
2 tablespoons strawberry drink mix (Nesquik)
1/8 teaspoon salt
3 cups confectioners' sugar
3 to 5 tablespoons milk
Note: I used frosting in a can with decorative tips.
In a small bowl, cream butter and sugar until light and fluffy. Beat in egg and lemon juice. Combine the flour, drink mix, baking powder and salt; gradually add to creamed mixture and mix well.
On a lightly floured surface, roll out dough to 1/4-in. thickness. Cut with a floured 2-1/2- to 3-in. heart-shaped cookie cutter. Place 2 inches apart on ungreased baking sheets. Bake at 350° for 8-10 minutes or until set and edges begin to brown. Cool for 2 minutes before removing to wire racks to cool completely.
In a microwave, melt chocolate chips and shortening; stir until smooth. Spread over cookies; let stand until set.
In a small bowl, beat the butter, drink mix and salt until blended. Gradually beat in confectioners' sugar. Add enough milk to achieve desired consistency. Decorate cookies. Makes 2 dozen cookies.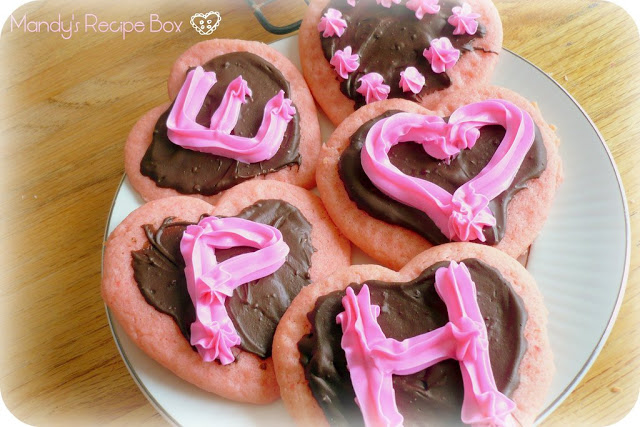 I put my kid's initials on a cookie for each of them. They love personalized gifts.