I had lots of strawberries to use up and found this recipe from All Recipes and had to try it. Excellent. It would be perfect for a picnic or family gathering. Or just because you want to make it and eat it up.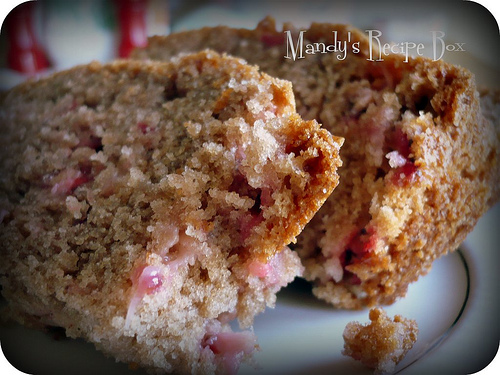 Strawberry Quick Bread
1 cup fresh strawberries
1-1/2 cups and 1 tablespoon all-purpose flour
1 cup white sugar
1/2 teaspoon salt
1/2 teaspoon baking soda
1/2 cup and 2 tablespoons vegetable oil
2 eggs, beaten
Directions
Preheat oven to 350 degrees. Butter and flour a 9 x 5 inch loaf pan.
Slice strawberries, and place in medium-sized bowl. Sprinkle lightly with sugar, and set aside while preparing bread mixture.

Combine flour, sugar, salt and baking soda in large bowl: mix well.

Blend oil and eggs into strawberries. Add strawberry mixture to flour mixture, blending until dry ingredients are just moistened.

Pour batter into pan. Bake for 35 to 45 minutes, or until tester inserted comes out clean.

Let cool in pan on wire rack for 10 minutes. Turn loaf out, and cool completely.