Spring is here and that means Strawberries! I do love them. Very much. I make jam and a yummy drink and strawberry shortcake. But this year, I wanted more than that. So I went on a mission of searching All Recipes for recipes using fresh strawberries. I found this pancake recipe and made it for dinner that night. Yes, dinner. I couldn't wait until morning to make it for breakfast. I know, it's what I do. These were so de-freaking-licious that I made them again two days later for breakfast. I have a new favorite breakfast food. I've had pancakes with strawberries on top but never cooked inside. Heavenly. Enough said.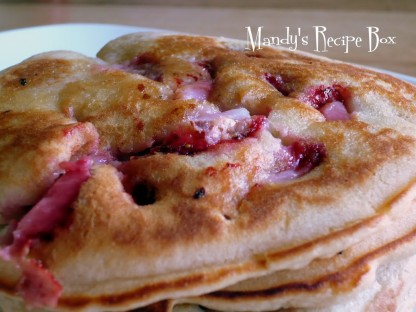 Strawberry Vanilla Pancakes
1 cup all-purpose flour
2 tablespoons brown sugar
2 teaspoons baking powder
1 teaspoon salt
2 tablespoons vegetable oil
2 tablespoons vanilla extract (yes 2 Tablespoons, trust me it's awesome)
1 cup chopped fresh strawberries
Chop up the berries and lightly sprinkle with some sugar.

In a medium bowl, stir together the flour, brown sugar, baking powder and salt. Pour in the milk, oil, egg and vanilla, and mix until well blended. Stir in the strawberries.

Heat a large skillet or griddle over medium heat, and coat with butter or cooking spray. Pour batter into desired size of pancakes. Flip with a spatula when bubbles appear in the center. Cook until golden brown on the other side.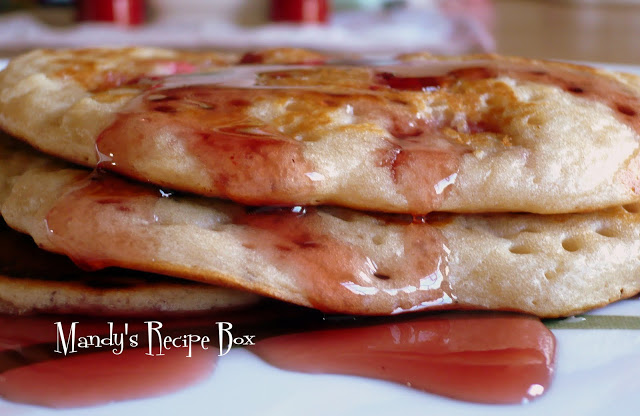 I ate mine with butter and strawberry syrup*.
*Note:
I was asked if I had a recipe for strawberry syrup. I don't so I did a search and came up with
this
that looks delicious. I will make it next time and let you know how it goes. Or you could try it and let me know!