Stir Fry Chicken and Rice is one of my top 10 easy dinner recipes that I make when I'm in a hurry. It's so quick to prepare and tastes so good. It's ready in about 20 minutes.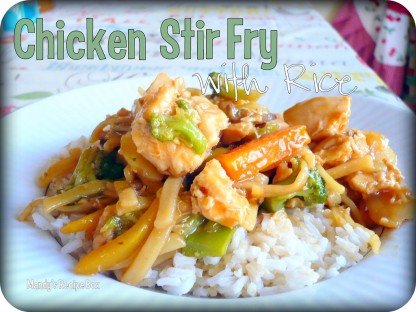 My husband came home from his sister's house one day and told me about this Stir Fry Chicken and Rice that she made for lunch. I immediately called her up for the recipe. If my Lance likes it, it's a keeper.  I use this often on busy hurry-up-and-make-dinner-or-we-don't-eat-tonight kind of nights. You can use any kind of frozen stir fry vegetables that you want.
Stir Fry Chicken and Rice
Ingredients
2 pkgs. frozen stir fry vegetables of your choice
1 (12.1 oz) bottle Kikomen's stir fry sauce
2 (13 oz. each) cans of chicken, I buy mine at Costco
3 Tbsp. oil
Rice
Directions
Heat oil in a large skillet and add the vegetables. Cook until almost done.
Add chicken and stir in sauce.
Cook til veggies are tender and chicken is warmed through.
Serve over rice.
 I like the of variety of vegetables with the noodles in them. I found them at Winco, but I'm sure there's other variations somewhere else.