Sticky Buns are the best way to say "I love my family!" They are easy to prepare. Make them at night and by morning, they are ready to bake!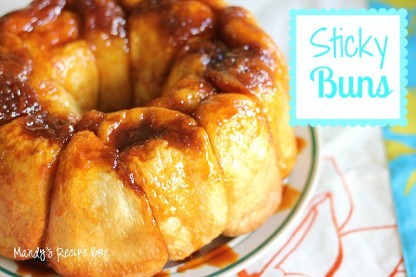 I am sure these are also known as "Monkey Bread" but Sticky Buns is just funner to say. Plus it is what they are called. In my family anyway. My mom always made these for us for breakfast. Which I must say is a labor of love since these need to raise a few hours (or more depending on how warm you kitchen is). She would get up around 3 or 4 am to start these so they would be ready to eat by the time we kids woke up. I put them together before I go to bed and let them raise overnight. Much easier! It is very simple to make, it's just the raising time you need to add in. Many times I have made these for dessert and then had the leftovers for breakfast the next day…if there are any leftovers. These go fast.
Sticky Buns
Ingredients
20 frozen Rhoades Rolls
¾ c. brown sugar
1 small pkg. Cook and Serve Butterscotch pudding mix (NOT instant, it won't work)
½ c. butter or margarine
Directions
Arrange rolls in a well greased Bundt pan.
Combine pudding mix (dry) and brown sugar and sprinkle over the rolls.
Pour melted butter over it all.
Cover and let it raise several hours until nice and puffy. You know. Like rolls should be. Don't jump the gun and try to bake them before they have raised enough. It won't turn out. Trust me.
Bake at 350 for 20 minutes. You may need to cover with foil and bake for 5 more minutes to be sure the insides are done.
Remove from oven and let it sit for 1 minute and then put a plate on top of the pan and invert.
Let it sit again so all the syrup runs down.
Serve.
Notes
Eat them while they are warm. Cover any leftovers and warm them up before eating again.