Steak Stew is great with a thick slice of buttered bread. Nothing tastes better on a crisp fall day.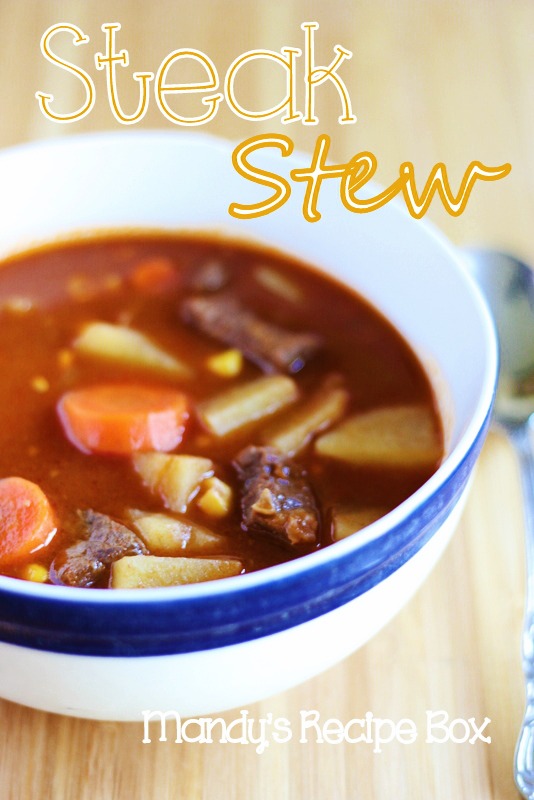 Fall is finally here! That was the longest summer ever. The heat was unbearable and we had a little rain one day, I think. Too miserable. But now the cooler weather is here! We still haven't seen any rain, but the heat has passed. Perfect for fall cooking and baking. Like comforting casseroles, soup, and stews. I am teaming up with
College Inn
to share this recipe with you. We love this stew. It is so flavorful and hearty and just says, " Love". 
Steak Stew
Ingredients
2 Tbsp. butter
2 Tbsp. Olive Oil
1½ lbs. boneless round steak, cut into cubes
½ C. chopped onion
3 Tbsp. flour
1 tsp. salt
¼ tsp. pepper
6 C. College Inn Tender Beef Bold Stock
2 C. water
1 bay leaf
1½ C. potatoes, peeled and diced
1½ C. carrots, diced
1½ C. celery, chopped
1 (6 oz.) can tomato paste
1 (15.25 oz.) can corn, drained
Directions
Melt butter and oil in a large skillet over medium heat until the foam disappears from the butter, and stir in the steak cubes and onion. Cook and stir until the meat and onion are browned, about 10 minutes.
While beef is cooking, mix together flour, salt, and pepper in a bowl. Sprinkle the flour mixture over the browned meat, and stir to coat.
In a large soup pot, pour in the beef broth and water, and add the bay leaf. Stir in beef mixture, and bring to a boil. Reduce heat to medium-low, cover the pot, and simmer, stirring occasionally, until meat is tender, about 45 minutes.
Mix in the potatoes, carrots, celery, tomato paste, and corn; bring the soup back to a simmer, and cook uncovered, stirring occasionally, until the vegetables are tender and the soup is thick, 15 to 20 minutes.
Remove bay leaf and serve hot.