Hey! I get asked all the time, "How do you start a blog?" Well I decided to post the info here so I can just show you.
Take the next 15 minutes to get started. Are you ready? Ok here we go!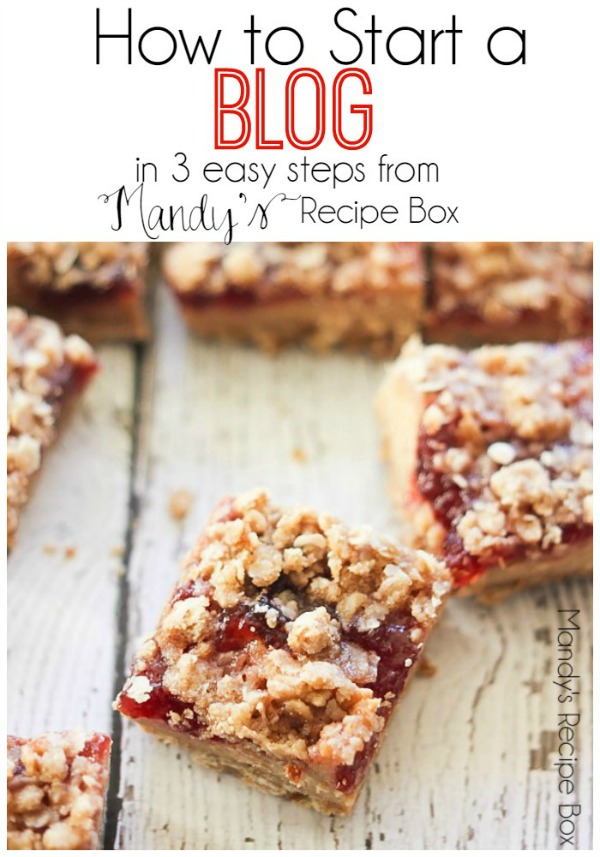 There are 3 steps to having your own blog:
1. Domain Name and Hosting
2. Installing WordPress
3. Making it look good
1. Domain Name and Hosting:
Sign up at Bluehost and select your plan. I recommend the starter for, well, starters.
This is where you get to choose what blog url you have. Mine is mandysrecipeboxblog.com Think about this one long and hard. You ideally want it to match your blog name. Like don't choose blahblahblah.com and then name your site Cooking Up a Storm. It should match so people can remember it. Once you decide on a url (domain name) hop over to Bluehost (you can get a free domain name  if you host your site with them!) to see if it's available by typing it into a box like this:

If you already have a domain, you can enter it into the box on the right where it says "transfer domain".
 You'll also need to host your domain name. Hosting is like renting space on the web to display your blog. Bluehost has great rates and gives you your domain name for free if you decide to host with them.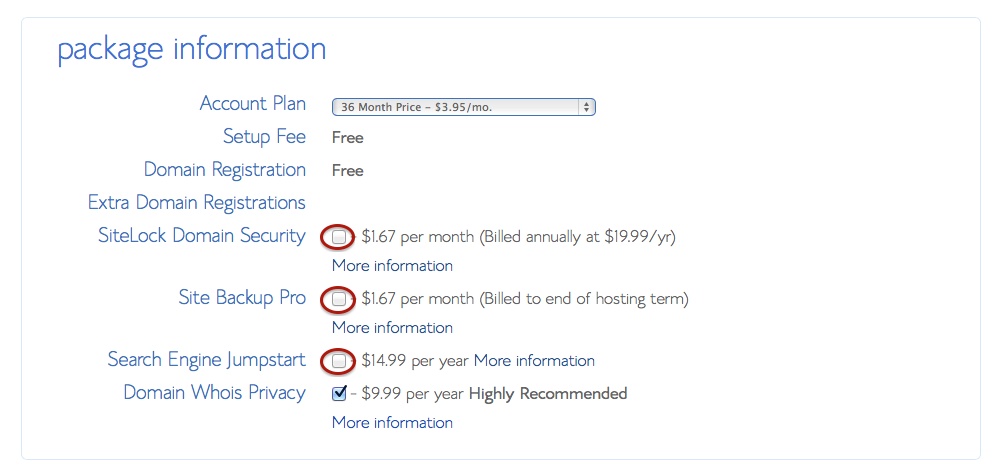 They have optional features that are circled in red above. You decide if you want any of those. Check out and you're done with that.
2. Installing WordPress
Once you've completed registration with Bluehost you'll need to go through the process of installing WordPress.
WordPress is a blogging software. It's the software that I use for mandysrecipebox.com.  It's SUPER easy to use and it's also  easy to install on your website. Bam.
Here's how:
Login to Bluehost and find the Website Builders section. Click on the WordPress logo.
On the next page click the "Install" button in the "Do it yourself FREE" section.
Click the "Check Domain" button.

Check the terms and conditions box and then click the "Install Now" button.
Once you get the message that says "Your install is complete!" you'll want to click on the "View Credentials" button and write down your Admin URL, Username, and Password. You can change these to something more memorable later, but you'll need them for your first time logging in.
Type your Admin URL into your web browser. You'll see a login screen. Enter your Username and Password you copied down from the previous step.
You are now logged in. Sweet!
3. Making it look good
You officially have your own blog! Now to make it look good. It's time to pick your theme.
WordPress has tons of free WordPress themes to pick from. You can scan through the options here. If you're looking for a premium theme, check out these options:
The Genesis Framework – This is the current framework I'm using with Mandy's Recipe Box. You'll also want to look into the available StudioPress Themes, like these here
Elegant Themes – I think Elegant Themes looks great, is easy to use, and has quite a few different options. It's also a bit cheaper then the other premium themes listed here. Take a look and see what you think.
And there you have it. Also I highly recommend these ebooks, especially for food bloggers: