I love love love this salad! I actually grew spinach in my garden this year just so I could make this salad anytime I wanted. Not kidding. My neighbor made this for a church dinner and I asked her for the recipe right then. Only I had to wait a few weeks to get it because she left for England the next day. Those were some long weeks. I made this salad the day after I finally got this recipe. Now, you can make this as the recipe says if you are serving it to a group of people, or you can do like I did. Just make the dressing and keep it in a container and make it as you want to eat it. The spinach will wilt if you put the dressing on it and put the leftover in the fridge. So I just keep the dressing in the fridge and add the onions (you'll see later) as I want to eat this. I also left out the mushrooms and cottage cheese and added sliced mozzarella cheese sticks instead.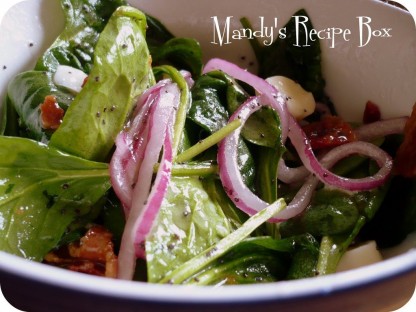 Spinach Salad with Poppy Seed Dressing
1 (1.5 oz) package of spinach
1 c. cottage cheese (or use sliced mozzerella string cheese)
1 red onion
3/4 lb. fresh mushrooms, sliced (optional)
1/2 lb. bacon
Cook the bacon and chop it up. Put it in the fridge until you're ready to put the salad all together.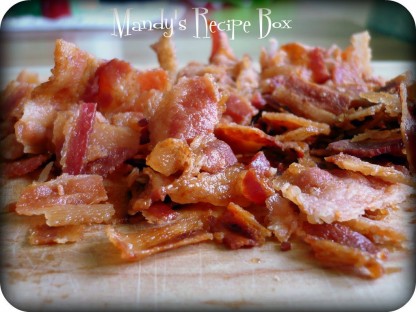 Slice the onion into thin rings.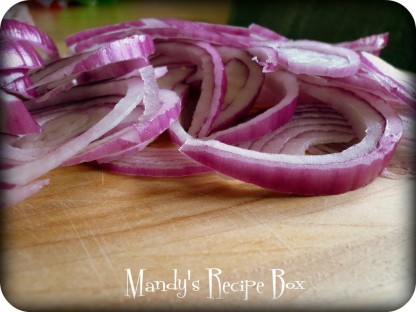 Poppy Seed Dressing
1 1/2 Tbsp. poppy seeds
1 c. oil
3/4 c. vinegar
3/4 c. sugar
1/2 tsp. salt
3/4 tsp. dry ground mustard
Combine the dressing ingredients in a jar or bowl. Shake or mix well.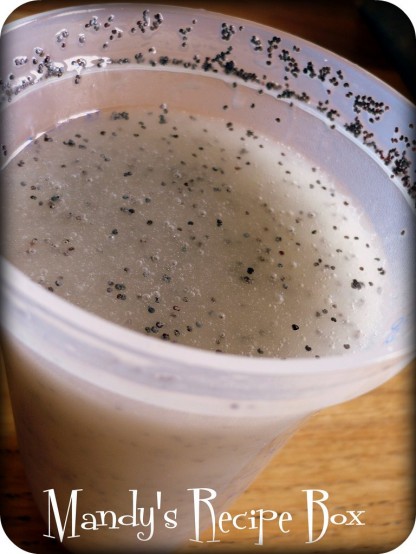 Place the onion and mushrooms (if using) into the dressing and let it marinate at least one hour. Just before serving, combine the spinach, cheese, marinated onions and mushrooms, and bacon. Toss with the dressing. Serve immediately.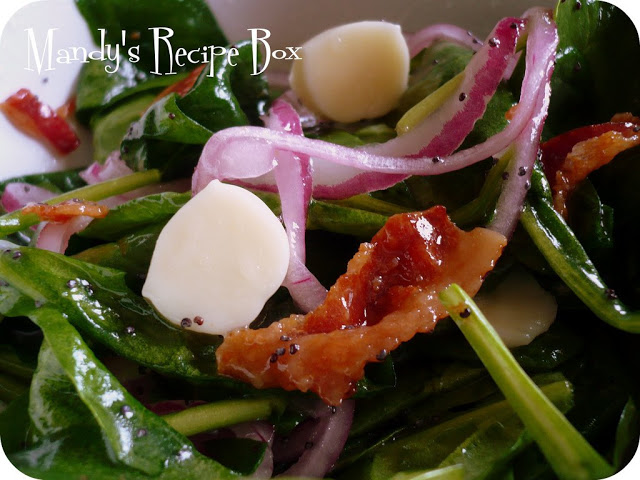 Note: To make individual servings, keep all ingredients seperate and make it as you want it. Just stick the amount of onions and mushrooms you need into a small container with the amount of dressing you need. Let it sit for an hour before you add it to your salad.