The story behind these Softest Cinnamon Rolls is this: I have been in search of the perfect cinnamon roll recipe since I've been married. It took me a long time to even attempt making them. Whenever I made any recipe I tried, they came out firm and tasting like they were stale, even fresh from the oven. I sort of gave up. Then I found this recipe for Potato Rolls and knew the second I bit into one that this was going to change things. Big time! And it did. I found the perfect cinnamon roll base, you guys! They are so soft and fluffy and perfect. I am not kidding. These are perfect. Then I used my favorite frosting ever that I put on this Banana Cake. The two go so well together that they got married. It was beautiful.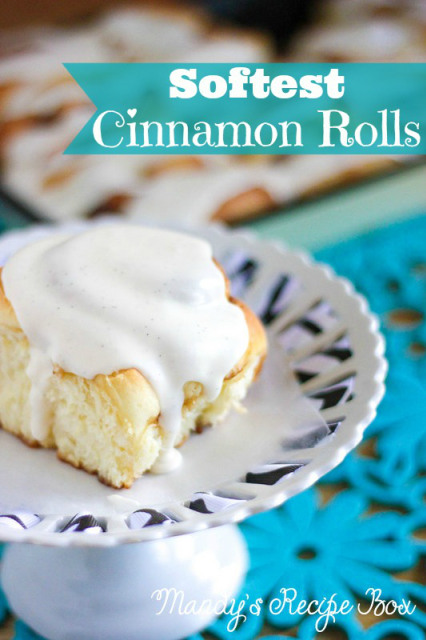 And they are so easy. Do not be afraid to try these. I know bread making came be scary, but this dough is so forgiving that you can't really mess it up. I thought I had the first time I made the Potato Rolls, but they came out amazingly. Please give these a try!
This recipe is a part of a series called Summer Baking with
Chinet
. Chinet makes it easy to share food, if you are into that sort of thing. Wouldn't these cinnamon rolls be perfect for a new mom or new neighbors to welcome them? Their disposable bakeware is sturdy and has a non-stick surface. Plus they are earth friendly!
Softest Cinnamon Rolls
Ingredients
For Cinnamon Rolls
¾ c. sugar
¾ c. butter or shortening (I used butter)
3 c. scalded milk* instructions below
1 c. potato flakes
1 Tbsp. salt
4 eggs
1 Tbsp. SAF Instant Yeast or 2 Tb Fleishmann's yeast
7 c. flour
*1/3 c. additional butter, softened
1 C. brown sugar
cinnamon
chocolate chips, raisins, or nuts (optional)
Vanilla Bean Frosting
2 tablespoons unsalted butter, softened
¼ cup heavy cream or half and half
½ teaspoon vanilla bean paste (or just use vanilla extract)
1¼ cups confectioner's sugar
Directions
Heat a medium sauce pan over medium heat and add the milk. Cook until the edges begin to foam and froth, but do not allow it to boil. There will be a little layer of the milk "skin" on top. Remove from heat and add the sugar, shortening or butter, potato flakes and salt.
Stir thoroughly and allow to cool to lukewarm.
Add the yeast, stir and then add the eggs, stirring until they are mixed in.
Place the flour in a large bowl.
Pour the milk mixture in and stir until the dough has come together, but is still soft. Sometimes I only use like 6- 6½ cups of flour. This is not like bread dough. It is slightly sticky dough.
Cover the bowl with a towel or saran wrap.
Let dough rise for one hour.
Push down and divide dough into 2 parts.
Roll out one portion at a time to ½" thick and butter the surface of the dough with a few pats of butter.
Sprinkle with brown sugar and cinnamon and optional toppings.
Roll up starting with the long side; pinch seam to seal.
Using string or floss, cut into 1 inch sections.
Place about 1 inch apart on lightly greased cookie sheet and cover with a towel.
Let rise for 1-2 hours more or until doubled in size.
Bake at 350 until golden brown, 14-20 min.
Frosting: Beat together the butter and powdered sugar.
Add the cream and vanilla; beat until smooth.
Frost cinnamon rolls.