I make an awesome Snickerdoodle cookie. They are perfect. Very true. I found this recipe for Snickerdoodle Blondies and had to try them. Not bad. My cookies win, though. These are great to make for a potluck or party or for work to share. Give them a try and see what you think.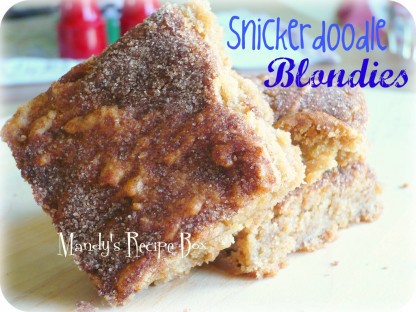 Snickerdoodle Blondies
2 2/3 cups all-purpose flour
2 teaspoons baking powder
1 teaspoon cinnamon
1/4 teaspoon grated or ground nutmeg
1 teaspoon salt
2 cups packed brown sugar
1 cup butter, room temperature
2 eggs, at room temperature
1 tablespoon vanilla extract
2 tablespoons granulated sugar
2 teaspoons cinnamon
a pinch nutmeg
Preheat oven to 350 degrees F. Lightly grease and/or line a 9×13 inch pan. Combine the flour, baking powder, cinnamon, nutmeg and salt and set aside. In large bowl, beat together butter and brown sugar for 3-5 minutes. Add in the eggs one at a time, then the vanilla, and beat until smooth. Stir in the flour mixture until well blended. Spread evenly in prepared pan (mixture will be somewhat cookiebatter-ish, so it's best to spread it out with a greased spatula or your hands). Combine the granulated sugar, cinnamon, and nutmeg in a little bowl. Evenly sprinkle cinnamon sugar mixture over the top of the batter. Bake 25-30 minutes or until surface springs back when gently pressed. Cool before cutting. Makes 20-24 bars.