So today you get a special treat. At the end of this post is a list of other gals and their fudge. So many wonderful fudge recipes all in one place!
I have the perfect fudge for you today.
It's made from Hershey's Symphony chocolate bars.
It's silky smooth, hence the name.
You can use the regular milk chocolate bar or you can use the bars with toffee bits and almonds in it.
That's the road I chose.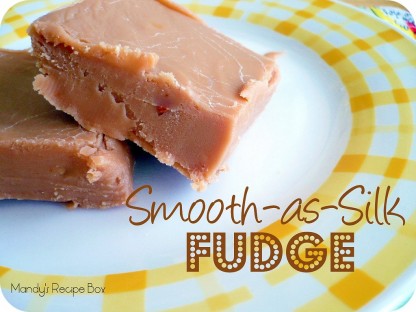 Ingredients:
3 regular sized Hershey's Symphony bars (6.8 oz total)
4 c. sugar
2 c. heavy cream
1 c. real butter, cut up
1 Tbsp. vanilla (pure is best, but you can use immitation as well)
Stir together the cream and sugar in a large heavily buttered saucepan. Stir continually. Once the mixture comes to a full boil, place the lid on tightly for 1 minute. Remove lid and continue to cook until it reaches 228 degrees (softball stage). At this point, do not stir at all. Remove from heat and add butter and vanilla. Let sit for 1 minute without stirring. Place broken chocolate pieces in a bowl.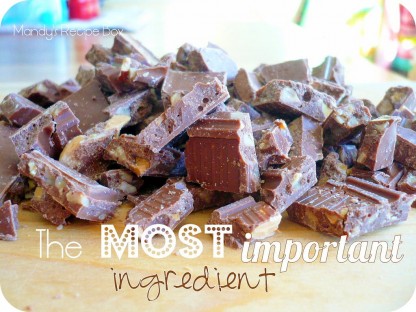 I used the kind with toffee and almonds.
Pour the hot mixture onto the chocolate pieces-DO NOT SCRAPE THE BOTTOM OF THE PAN-or you will get any brown pieces as well. Whisk until creamy and butter is all incorporated. About 4 or 5 minutes. Pour into a buttered 9×13 dish. Let it cool completely. I put mine in the fridge. I have no patience for such things.
Cut into squares.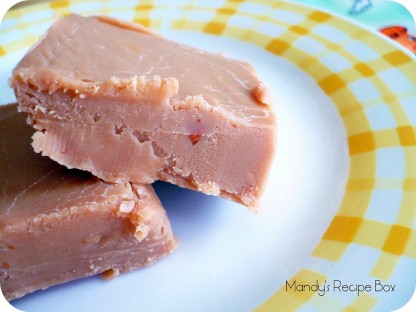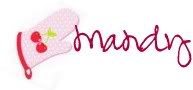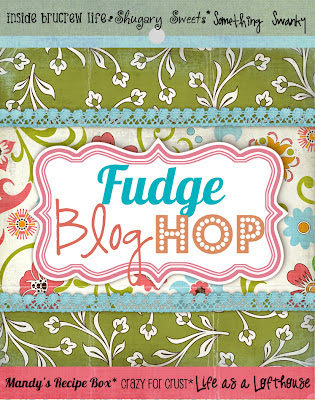 Now be sure to go and visit these other fabulous blogs and see the fudge they made. You're also sure to find other blogs to become obsessed with adore. I just love these girls and their blogs. I never miss a post and trust me, after visiting them, neither will you!