I use my slow cooker all year round. I love it in the summer because it doesn't heat up my kitchen while cooking and I love it the rest of the year because it is such a time saver. My friend has 9 children with one on the way and she doesn't have a slow cooker. I cannot even grasp that concept. How does she survive without one?!
Crazy, is what it is.
Make this Slow Cooker Lemon Chicken today. It only takes 3-4 hours so you can start it later in the afternoon and be ready for dinner. Sometimes I forget to start a meal in my slow cooker in the morning and then it's too late because a lot of meals take longer to cook. Not this one. Winner, winner chicken dinner. I had to say it.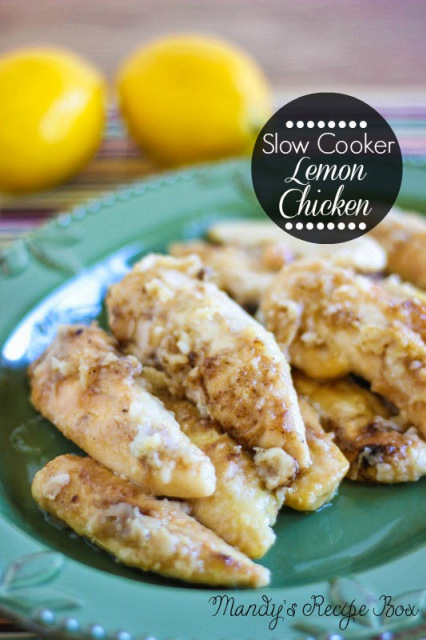 Slow Cooker Lemon Chicken
Ingredients
4 boneless, skinless chicken breast or 12 chicken tenders
¼ C. flour
¼ C. butter
1 packet Italian Dressing mix, dry
½ C. fresh lemon juice or ¼ C. concentrated lemon juice
½ C. chicken broth or ½ C. water plus 1 chicken bouillon cube
Directions
If using chicken breasts, cut into thirds lengthwise; coat chicken in flour.
Heat 2 Tbsp. butter in a large skillet; cook half of the chicken on each side 3 minutes to brown. Don't cook through as they will cook in the slow cooker.
Remove chicken and place in the slow cooker; cook other half of the chicken in the remaining 2 Tbsp. butter.
Place chicken in slow cooker.
Sprinkle chicken with Italian Dressing mix, lemon juice and chicken broth.
Cover with lid and cook on low 3-4 hours.
Serve over rice with juices.