I make this dish on Sundays all the time. I stick it all in the slow cooker when I get up and then it's ready to eat when we get home from church at 1 pm. All I need to do is whip up some mashed potatoes or cook some noodles to go with it. I also love cooking this in the summer when I don't want to heat up my kitchen with the oven. I put it in the slow cooker around 11 am on low and it's ready to eat by 6 pm. Serve it over mashed potatoes, egg noodles, or fettuccine noodles. You'll be adding this to you "make it again" list.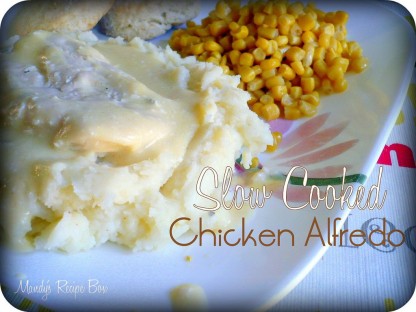 4 chicken breasts (thawed or frozen, I also have used chicken tenders)
1 pkg Italian dressing mix, dry
1 stick of butter, cut up
1 (8 oz) cream cheese, cut up
2 cream of chicken soups
1 soup can of milk
Put chicken in crock pot and sprinkle with Italian dressing. Put butter and cream cheese on top. Top with soup and milk. Cook in slow cooker all day on low or high for at least 5-6 hours. Serve over noodles or mashed potatoes.