Coming from a part-Hispanic family, I grew up with authentic Mexican food. I just love it. When I can find the real thing in restaurants, I just devour it. At my local library, I came across Marcela Valladolid's
Mexican Made Easy: Everyday Ingredients, Extraordinary Flavor
cookbook. I took it home and after the first few recipes, I decided I needed this forever. So I ordered it. It's full of authentic Mexican dishes that are amazing. Like this recipe that I'm sharing today. Super easy to prepare since it uses a slow cooker. Just try it for yourself.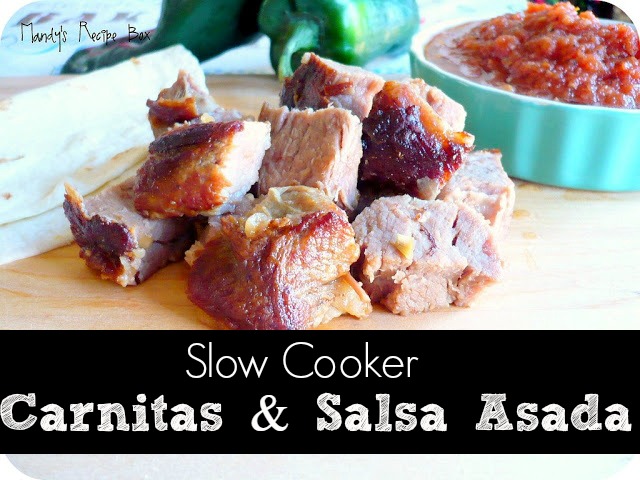 2 lbs pork butt, cut into 2 inch cubes (4 cups)
Directions
Melt the shortening in a large skillet over medium-high heat.
Sprinkle the pork all over with salt and pepper. Add to the pan. Sear the meat on all sides, turning occasionally, until golden brown, about 10 minutes. This gives it a lovely crust.
Transfer the meat to the slow cooker with the juices.
Add 1/2 Tbsp. salt, the peppercorns, and bay leaves.
Quarter the onions or chop them up (that's what I did) and add to the slow cooker with the garlic ( I minced mine but you can leave them whole if you just want the flavor).
Cover and cook on high until the meat is tender, about 3 1/2 hours.
Using a slotted spoon, transfer the pork to a cutting board.
Discard the quartered onion and whole garlic cloves, if that's how you used them. Cool slightly.
Cut the pork up or shred it.
Slice the remaining onion to serve with the pork and Salsa Asada. You can eat it as is, or make tacos with tortillas.
Salsa Asada is the most traditional salsa in terms of preparation. The term asado can refer to grilled or dry roasted as I did with this salsa. Cooking it in a dry skillet let the ingredients char so you get a nice smoky flavor. Traditionally it's made with an onion, but I used a shallot for a more mild flavor.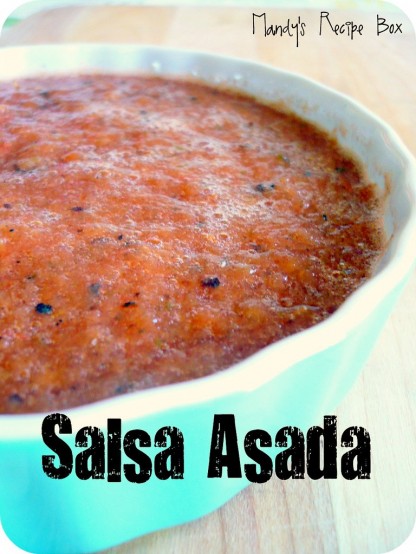 2 serrano chiles, stemmed
Heat a medium skillet over medium-high heat.
Add the tomatoes, shallot, and serranos and roast in the dry skillet until charred on all sides, about 8 minutes.

Right here you can leave the serranos as is, or you can open them and remove the seeds for less heat.

Transfer all to a blender, add the broth, and blend until smooth. Season with salt and pepper.

Serve with the Carnitas. It's also great with tortilla chips.