Skinny Cake with Vanilla Bean Frosting is a lighter version cake with all the flavor and texture of a regular cake.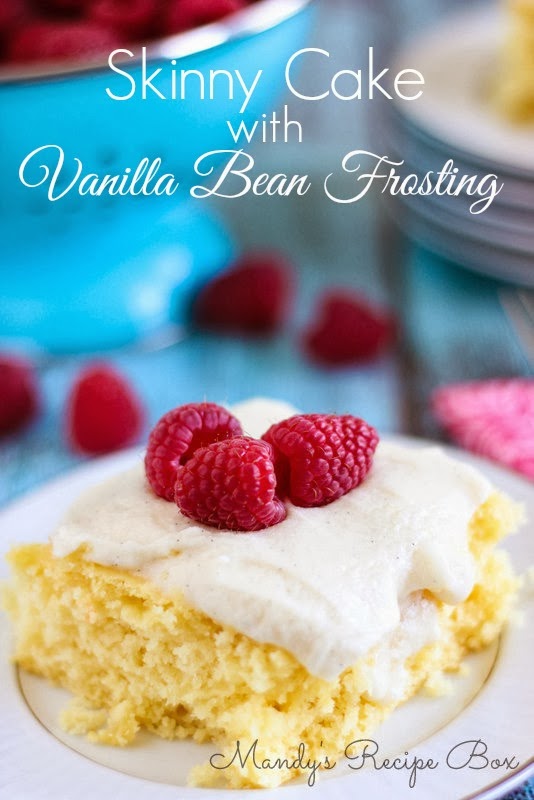 This cake. It's healthified without losing flavor or texture. I used Greek yogurt in place of the oil and egg whites in place of the eggs. The result is a delicious cake that you can eat proudly. What other cake will give you protein? Thanks to the Greek yogurt. And the frosting. Well, it's in its own world. Amazing own world. I first made it with this banana cake and it wins all. It is my go-to frosting.
There is about 188 calories in one serving of this cake. Not bad at all.
You will take this cake to a potluck and you will have everyone eating it up without making that "Oh, this is a diet cake" look on their face. Because some "Skinny" recipes taste skinny and diet-y. Not this cake.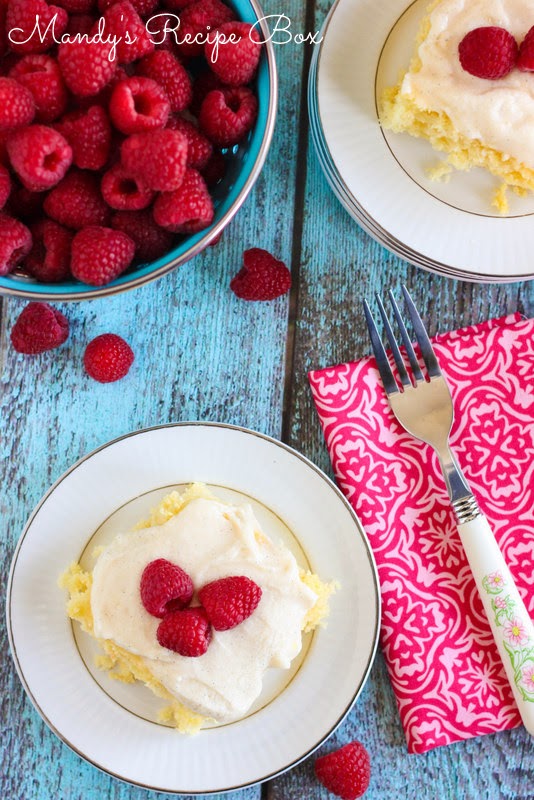 Then you can tell that woman who isn't eating any dessert to go ahead and have a piece of this cake because it's not all fatty and liable to wreck her diet. It won't wreck her diet. Unless she tastes it and loves it and can't stop eating it. Then it may wreck her diet. Sooo…maybe you leave that lady alone. You don't want that on your conscience. Anyway. Make this cake. And top it with berries because it looks pretty and tastes yummy.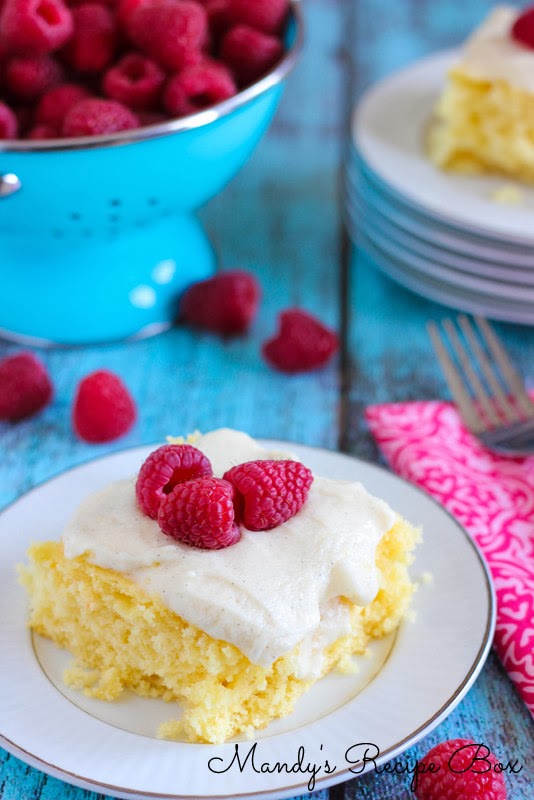 Skinny Cake with Vanilla Bean Frosting
Ingredients
Ingredients for cake:
1 box (16.5 oz) yellow cake mix
6 oz. plain greek yogurt
1 cup of water
2 egg whites
Ingredients for frosting:
2 tablespoons unsalted butter, softened
¼ cup heavy cream
½ teaspoon vanilla bean paste* (see below)
1¼ cups confectioner's sugar
Directions
Mix dry cake mix with yogurt, egg whites and water. Beat for 2 minutes.
Pour into a 9x13 pan sprayed with cooking spray.
Bake at 350 degrees for 28-30 minutes until toothpick inserted into center of cake comes out clean.
Cool completely.
Mix together the butter and powdered sugar.
Add the cream and mix until smooth.
Add the vanilla paste and mix again.
Frost cooled cake and serve with berries on top, if desired.
Notes
*You can use vanilla bean paste straight across in place of vanilla extract. It just has a more intense vanilla flavor and I love it.