I love Mexican food. I am half hispanic on my dad's side and so I grew up with this food. My grandma always had her homemade tortillas fresh off the cast iron burner when we went to visit. One snack I loved to have was a roasted Anaheim Chile pepper folded inside a tortilla. I grow those peppers in my garden just for that snack. These enchiladas are made with corn tortillas and shredded beef. I just cook the roast in my slow cooker and the rest is fast and simple. And cheesy. Also, if you don't use all the meat, just freeze it for another time. It will be that much faster. Just thaw and go!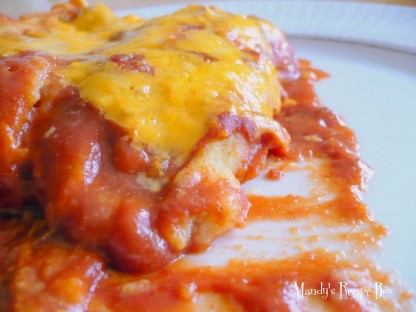 Shredded Beef Enchiladas
At least a 2 lb roast
1 packet taco seasoning
corn tortillas
onion, chopped
shredded cheddar cheese
1 can red enchilada sauce
Cook the roast in a slow cooker until done. I put mine in when I go to bed and then leave it on low until I make this. Or do it on high in the morning and it will be ready by dinner time. Pull the roast out of the cooker and shred it with two forks. Saute the onions in a skillet with some oil or butter until tender. Add the meat, taco seasoning and however much water it calls for on the packet. Cook like tacos. Now for the tortillas, you can do this one of two ways. 1.Heat another skillet with a small bit of oil and cook the tortillas on each side til warm so you can roll them up or 2. Place about 6 between two damp paper towels and nuke in the micorwave about 30 seconds or til warm enough to roll up. If you don't they won't roll, only crack.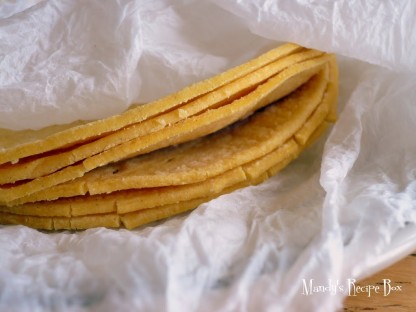 Next, take the sauce and spread some in the bottom of a 9×13 pan. Get the tortillas and spread a little sauce on it. Then top with meat mixture and cheese.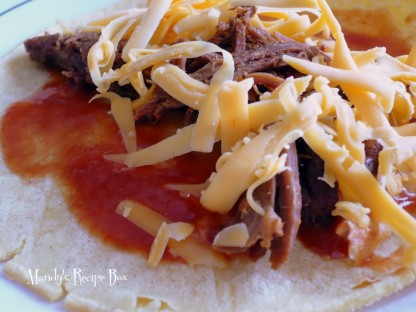 Roll up and place seam side down in the pan. Continue until the pan is full. Cover with the rest of the sauce and all the cheese you want.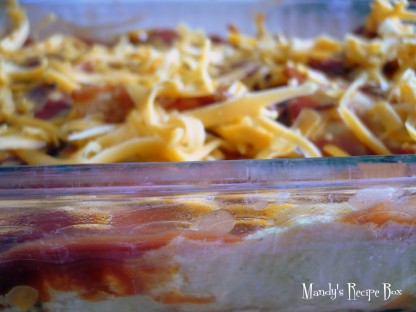 Bake covered at 350 for 30-40 minutes.