These are another favorite cookie of mine. They remind me of Christmas, since that is when my aunt makes her Linzer cookies and give them out to us. They are so melt-in-your mouth delicious. They are very dangerous to eat. I can never stop at just one!
The traditional
Linzer Cookie
has two layers with the jam in between. I made a shortcut version that tastes just as amazing with less time and effort.
I add finely crushed pecans, but you don't have to. But I think you really should. You can't taste them, but they give the cookie a scrumptious texture. Be brave, go for it!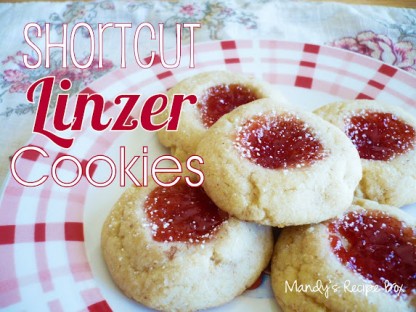 Ingredients:
3/4 cup butter (no substitutes), softened
1 1/2 cups all-purpose flour
1/4 c. finely crushed pecans
2 tablespoons raspberry or strawberry jam
In a mixing bowl, cream butter and sugar. Add egg yolk; mix well. Stir in the flour and pecans. On a lightly floured surface, gently knead dough for 2-3 minutes or until thoroughly combined.
Roll into 1-in. balls. Place 2 in. apart on greased baking sheets. Using the end of a wooden spoon handle, make an indention in the center of each. Fill each with 1/4 teaspoon jam. Bake at 350 degrees for 13-15 minutes or until edges are lightly browned. Remove to wire racks. Dust warm cookies with confectioners' sugar if desired. Cool.