Sesame Chicken is a dish that can be made all year long. The sesame oil gives it such an incredible flavor!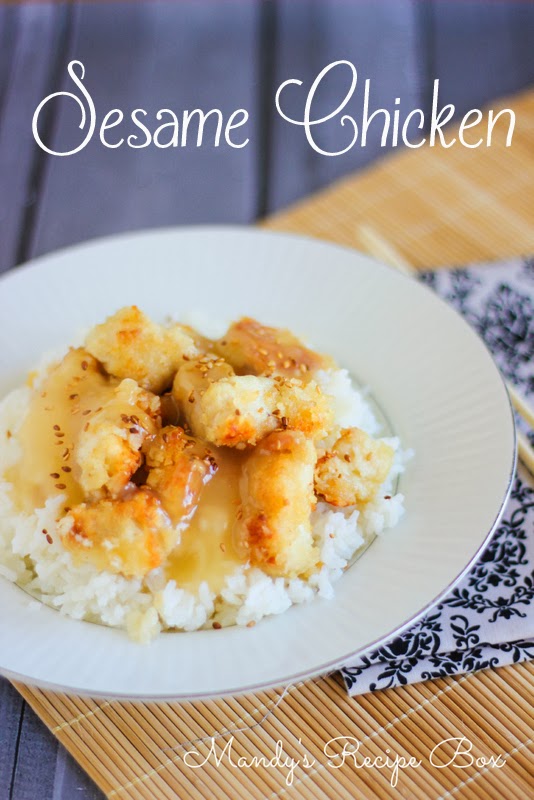 Are you ready for Thanksgiving? I am. I was assigned the mashed potatoes and a pie. I chose to bring a Chocolate Cream Pie since it's my husband's favorite. What are you making? Or are you cooking it all? I need to make a mini Thanksgiving dinner at my house afterwards just for the leftovers. You never get any when you go to someone else's house. I love a turkey sandwich made with bread, cold turkey, Miracle Whip and salt. That's it.
This Sesame Chicken still needs to be made in your kitchen. I know everyone is all about the holiday foods right now, but that's not all you're eating, right? Or maybe it is. There's no judgement here.
Sesame Chicken
Ingredients
14 oz can chicken broth
½ C. sugar
4 Tbsp. vinegar
4 Tbsp. soy sauce
4 Tbsp. sesame oil
2 tsp. Chili paste (optional)
1 garlic clove, minced
½ C. cornstarch
1 C. water
4 chicken breasts, cut into bite sized pieces
2 C. flour
½ tsp. salt
2 eggs
1 C. buttermilk
oil for frying
2 Tbsp. toasted sesame seeds*
Directions
Combine chicken broth, sugar, vinegar, soy sauce, sesame oil, chili paste, and garlic in a medium saucepan; bring to boil on high.
Dissolve cornstarch and water in a bowl; stir into sauce.
Turn heat to low and simmer until thickened, about 2 minutes. Keep warm.
Mix together in a shallow dish the eggs and buttermilk.
Place chicken pieces in the mixture and stir to coat.
Place flour in a shallow dish or ziploc bag; add chicken and stir or shake to coat.
Place enough oil in a large skillet to coat the bottom about ½ inch. Heat on medium high.
Add chicken to skillet and cook on all sides until golden and done inside.
Drain on paper towels.
Serve with sesame sauce over rice.
Top with toasted sesame seeds if you want.
Notes
*To toast sesame seeds: Place in a oven safe dish and broil on low for 1-2 minutes until golden brown, keeping a close eye on them so they don't burn. Remove from oven and serve.