So I'm not completely sure what this is. It tastes like breakfast, but I don't eat broccoli in any of my breakfast foods. It has sausage and corn in it, too. I made this for dinner and it just confused me. It was absolutely tasty, but my mouth wasn't expecting such a breakfasty taste at dinner time. Don't get me wrong. I love making breakfast foods for dinner. Pancakes are so good in the evening! But I'm expecting that. I plan that. This dish surprised me. To add to my confusion, a serving suggestions says to serve this with a leafy green salad. See? That's not breakfast, for sure! So now that I know it tastes like a breakfast dish, I can be prepared for the next time I eat it. Do with it what you will. I ate it straight up. My husband, as usual, added hot sauce.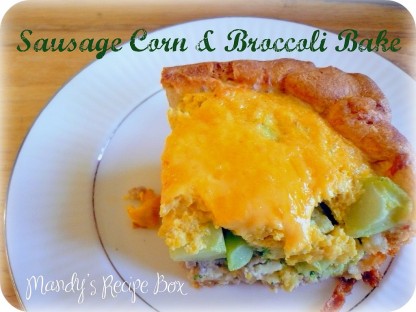 Ingredients
1 can crescent rolls or 1 can flaky dough sheet
8 oz. bulk pork sausage
2 c. frozen broccoli florets, thawed
3 eggs
1 Tbsp. flour
1 tsp. seasoned salt
1 can cream style corn
1 c. shredded cheddar cheese
Directions
Preheat the oven to 325 degrees. Grease a 11×7 (2 qt.) baking dish.
Unroll dough in the baking dish; press on bottom and 1/2 inch up sides of dish.
In a skillet, cook sausage stirring until no longer pink. Drain. Spoon evenly over dough.
Top with broccoli.
In a large bowl, beat eggs, flour, and salt until well blended. Stir in corn.
Pour over broccoli and sprinkle with cheese.
Cover and bake 30 minutes.
Uncover and bake 25-35 minutes more or until knife inserted in center comes out clean.