Salisbury Steak is basically a fancy way of saying hamburger with yummy sauce. It's an easy dish to prepare and great for busy weeknights.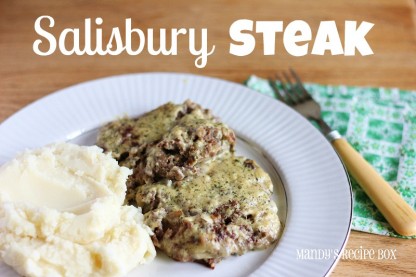 I like to cook up hamburger patties and saute some mushrooms and onions and eat it all dipped in A-1 Steak Sauce
or Heinz 57
. Quick and simple. I usually make it for lunch for Miss Emma and myself and Lance when he's home. Emma always makes sure to grab some mushrooms and onions when we are in the grocery store. She loves them!
So I found a great recipe that spiffs it up a bit. It comes from Gooseberry Patch's cookbook Meals in Minutes.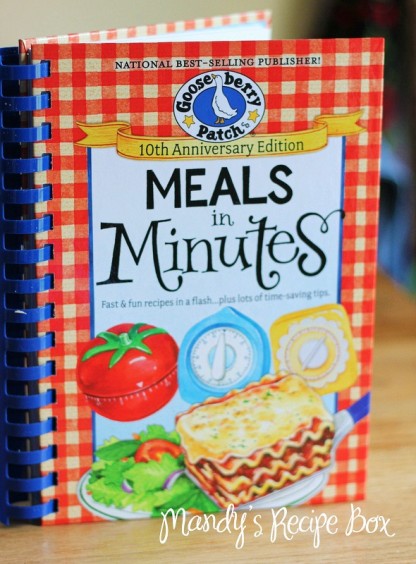 I have bookmarked so many recipes in here that I really should just start at the beginning and cook every recipe one by one. They are so tasty looking. The categories are Market Fresh & Fast, Oodles of Noodles, Hearty in a Hurry, Quick as a Wink, Treats in a Twinkle, and a section called Perfectly Prepared Pantry that gives you lists of what you should have in your pantry to put together quick meals without having to run to the store.
I rather love this cookbook.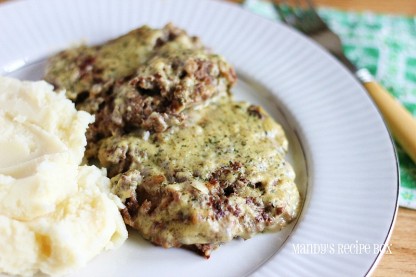 There are also tips included like "When freezing ground beef, why not brown it first? Add seasoning, drain and cool before placing in recipe-sized servings into freezer bags…they'll be ready in minutes!" or "A quick and easy tasty appetizer in a jiffy…place a block of cream cheese on a pretty plate, spoon sweet-hot pepper jelly over it and serve with crunchy crackers."
See? You need this book.
This giveaway is closed.
The winner is #21…Michelle who said, "One of our family favorites is round steak simmered all day long in mushroom gravy with mashed potatoes and fresh bread :)"
Salisbury Steak
Ingredients
1 & ½ lbs ground beef
¼ c. round buttery crackers, crushed
1 egg, beaten
1 onion, chopped
1 (10.75 oz.) can of cream of mushroom soup
1 Tbsp. mustard
1 Tbsp. horseradish sauce
1 tsp. Worcestershire sauce
½ c. water
2 Tbsp. dried parsley
Directions
In a large bowl, combine beef, crackers, egg and onion; set aside.
In a separate bowl, mix soup, mustard, horseradish sauce and Worcestershire sauce; add ¼ c. to the beef mixture.
Form beef into patties. Brown on both sides in a skillet over medium heat; drain.
Stir water and parsley into remaining soup mixture; pour over patties.
Cook for 20 minutes, until heated through.
Notes
You may want to double or triple the sauce amounts to use as a sauce over mashed potatoes.