These Chicken Noodle Bowl and Better Than Brownies are two delicious recipes from
Gooseberry Patch's
Rush Hour Recipes cookbook. They are both simple to make and full of flavor.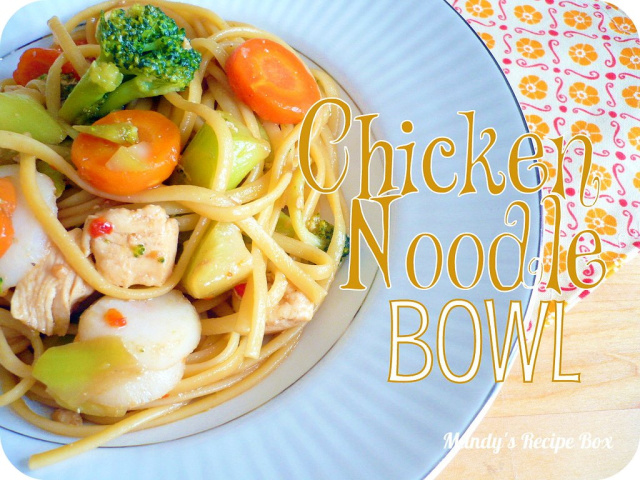 Rush-Hour Recipes
 is filled with more than 230 dinner recipes that are sure to please your family and friends. With categories like 5-Ingredient Favorites, One-Dish Dinners, Slow Cookers to the Rescue, Soup's On!, Make-a-Meal Sides, and Speedy Potluck & Party Foods you will never have to look much further than your pantry for the ingredients. Many of the dishes can be prepared in 30 minutes or less! That's a winner in my kitchen. You could also use it for lunch. I rarely cook lunch. We usually have leftovers or a sandwich or something quick like that. Today, however, I made Chicken Noodle Bowl and let me say, it came together in a snap.
Chicken Noodle Bowl
8 oz. pkg. linguine pasta
3 c. frozen broccoli cuts or florets
2 carrots, peeled and sliced
2 tsp. oil
1 lb. boneless skinless chicken breasts, cut into strips or chunks
1/2 c. zesty Italian salad dressing
1/3 c. teriyaki sauce
1 tsp. ground ginger
1 can water chestnuts (I added these)
Cook pasta according to package directions. Add broccoli and carrots to the cooking water the last 2 minutes of cooking time. Drain pasta mixture. Meanwhile, heat oil in a large skillet over medium heat. Add chicken; cook until golden on all sides, stirring occasionally. Stir in remaining ingredients; cook until sauce thickens. Add pasta mixture to skillet. Stir until coated with sauce. Serve in individual bowls. Makes 4 servings.
In the very back of the book there are a few dessert recipes. You just know I had to try one. I chose the Better Than Brownies. They are pretty scrumptious. They remind me of Betty Crocker's Warm Delights. Very light and airy and melt-in-your-mouth good!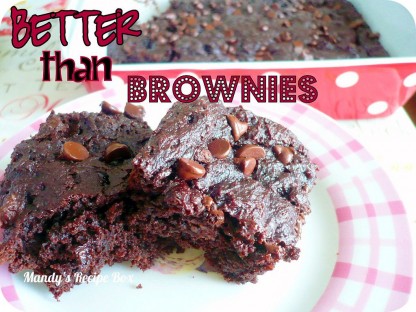 Better Than Brownies
3.4 oz. pkg. cook & serve chocolate pudding mix
2 c. milk
18.5 oz. box chocolate cake mix
1 c. semi-sweet chocolate chips
1 c. chopped nuts (I left these out)
Prepare dry pudding mix with milk according to package directions. Cook until slightly thickened. Remove from heat. Stir in dry cake mix. Spread batter into a greased 9×13 baking pan; sprinkle with chocolate chips and nuts. Bake at 350 degrees for 30 minutes. Cool and cut into squares. Makes about 2 dozen.