This is such a basic and simple recipe that I wasn't sure if I should put it on here. BUT it's one of my favorite things to eat so I am going to do it. All you need is a roaster, ham, potatoes, carrots, onions, and butter. I don't like to use the slow cooker with this. I like the taste it has from the roaster instead. So simple, but that is what often makes the tastiest dishes!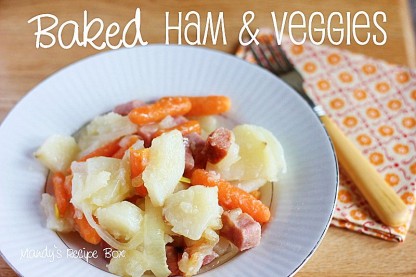 Ham, cut into bite sized pieces
Potatoes, cut into bite sized pieces with skin on or off
Carrots, about the size of baby carrots, or just use baby carrots
1 or 2 onions (depending on your taste), sliced
1 or 2 sticks of butter or margarine, depending on the size of your roaster.
Directions
Slice the butter up; place a few pieces on the bottom of your roaster.
Add some of the ham, potatoes, carrots and onions.
Place more butter on top.
Repeat until you have used all the ham, potatoes, carrots and onions.
End with butter on top.

Cover with lid and bake in the oven at 250-350 degrees, depending on how long you want it to cook. If you will be at church or something for a few hours, do it at about 250. Just check, if you are home, now and then so it doesn't burn.

I cook mine about 5 hours at 250. I use a large roaster and it's perfect.