A few weeks ago, I was able to go to the Taste of Home Cooking School. It was a blast! If you ever get the chance, go to one. The instructor made some pretty great looking dishes. This is one of them. I love a Reuben Sandwich. I love everything about it. Sauerkraut, corned beef or pastrami, cheese, rye bread…oh yes. This is all those put into a casserole with noodles. I forgot the bread crumbs on this, but it was still mighty tasty. I love casseroles. So easy and so comforting. The sauerkraut gets drained and rinsed in this meal so there isn't such a strong flavor, which works well here. My husband even had seconds which says a lot. I've said it before, but he's a food is fuel person, where I am a food is an experience person. So him having more of something usually means he likes the taste rather than because he is still hungry. Score for this dish!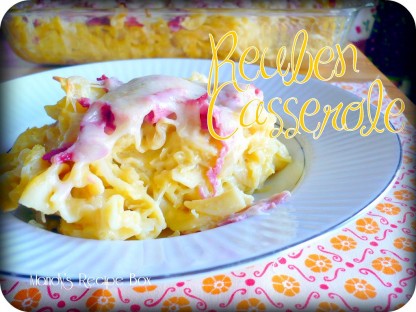 5 c. uncooked egg noodles (I used a 16 oz. package)
2 cans (14 oz. each) sauerkraut, rinsed and drained
2 cans (10-3/4 oz each) cream of chicken soup, undiluted
3/4 c. milk
1/2 c. chopped onion
3 Tbsp. prepared mustard
3/4 lb. sliced deli corned beef, chopped
2 c.shredded Swiss cheese
4 slices day-old rye bread
4 Tbsp. butter, melted
Cook noodles according to package directions. Meanwhile, in a large bowl, combine the sauerkraut, soup, milk, onion, and mustard. Drain the noodles and stir into the sauerkraut mixture. Transfer to a greased 9×13 baking dish. Sprinkle with the corned beef and cheese. Place bread in a food processor; cover and process until crumbly. Toss with butter and sprinkle over the top. Bake uncovered at 350 degrees for 40 minutes or until bubbly.