This Red and White Pasta is my new go-to recipe when I want something quick. Normally, spaghetti falls into that category. But even that is a struggle for my Preston who doesn't like many tomato-based meals such as lasagna and spaghetti. Crazy kid. But he likes this meal and I like it better than spaghetti so it's a winner. We normally don't add any meat to this, but you can add ground beef or shredded chicken if you want. Or you could use the spaghetti sauce with meat in it. Serve it along a salad and garlic bread and you're good to go.
I cannot tell you how delicious this is. The combo of the spaghetti and Alfredo sauces is just perfect.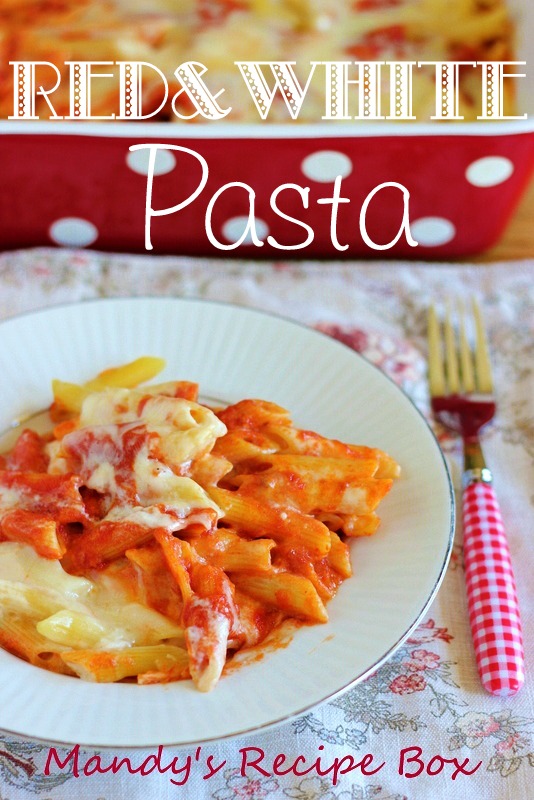 Red and White Pasta
Ingredients
1 lb. Penne pasta
1 (26 oz.) jar spaghetti sauce
1 (16 oz.) jar Alfredo sauce
3 C. shredded Mozzarella cheese
Directions
Preheat oven to 375 degrees. Boil and cook pasta in a large pot of water according to package directions; drain.
In a 9x13 glass baking dish, spread ½ cup of spaghetti sauce on bottom.
Pour half of the cooked pasta on top.
Pour half the Alfredo sauce, half the spaghetti sauce and 1½ cup of cheese evenly over pasta.
Repeat with remaining pasta, sauces and cheese.
Cover with foil and bake for 30 minutes or until hot & bubbly.