I had some ravioli in my refridgerator that needed to be used as well as some spinach in my garden. This recipe is the result. I also added some chicken to give it protein and, well, let's face it…my husband is a meat eater and needed that extra addition. It comes together quickly so that's a plus in my book.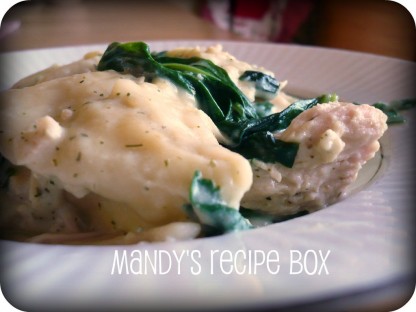 Ravioli and Spinach Alfredo (with chicken)
1 (18 oz.) package of refrigerated ravioli (I used four cheese)
2 packets of Alfredo mixture
Spinach
1 (14 oz) can of chicken or 2 cups cooked and cut up chicken
Boil the ravioli in water as package directs or for about 10 minutes. Meanwhile, make the alfredo sauce according to directions. Pour into a large skillet and add cooked ravioli. Add spinach and cooked or canned chicken. For the spinach, it cooks down so pile it in the pan and cover with a lid. Let it cook on medium until the spinach cooks down. Stir occasionally.