Raspberry Pudding Bars have a graham cracker crust topped with a delicious pudding mixture and raspberries. One bite just won't be enough. It's a great no bake dessert!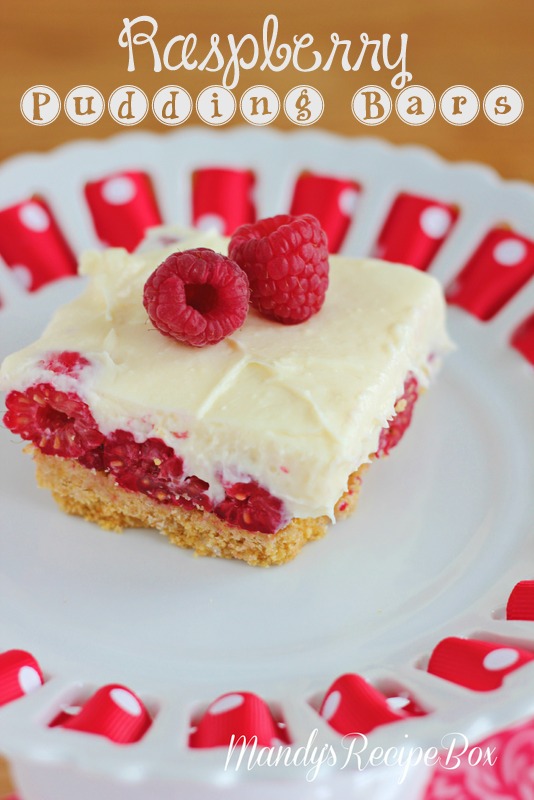 I haven't posted anything Valentine-y yet. These qualify because they have red in them and they taste really really good so you can count them. Whoever eats them will feel loved. Because they have raspberries in them. And raspberries aren't the cheapest berry out there. See? That says love.
Raspberry Pudding Bars
Ingredients
1½ C. graham cracker crumbs
6 Tbsp. butter, melted
2 Tbsp. granulated sugar
1 package (8 oz.) cream cheese, softened
½ C. powdered sugar
1 package (3.3 oz) instant Jell-O White Chocolate Pudding (you can also use lemon, vanilla, or cheesecake flavors)
1 C. milk
1 tsp. lemon zest (optional if using lemon pudding)
12 oz. fresh raspberries, save ⅓ C. for garnish
Directions
Line an 8x8 baking dish with parchment paper or foil. Set aside.
Combine graham cracker crumbs, butter and sugar until well blended.
Press into baking pan. Refrigerate while preparing the filling.
Combine cream cheese and powdered sugar with an electric mixer until well blended.
Add dry pudding mix, milk, and lemon zest if using it.
Beat 2 minutes or until well blended.
Layer raspberries on top of crust.
Pour pudding mixture over raspberries; spread gently to cover berries.
Refrigerate at least 4 hours before serving.
Use edges of parchment paper or foil to lift bars from the pan.
Cut into 9 squares and garnish with extra raspberries.