This treat is perfect for summer to use up those pears and raspberries that are in season. After blueberries, raspberries are a favorite of mine. I just love their flavor. This crisp tastes great on its own, or you can top it with some vanilla ice cream or whipped cream.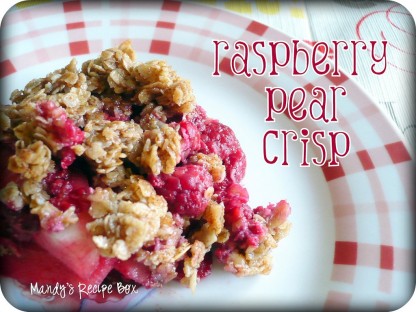 Printable Version

Ingredients
2 medium ripe pears, peeled and thinly sliced
3 cups fresh raspberries (you can use frozen, just be sure to thaw and drain them completely)
2 tablespoons sugar
1 cup quick-cooking oats
1/4 cup honey
3 tablespoons stick margarine, melted
1 teaspoon ground cinnamon
1/2 teaspoon ground nutmeg
Directions
Place pears in an 8-in. square baking dish coated with cooking spray.

Sprinkle with raspberries and sugar.

In a large bowl, combine the oats, honey, margarine, cinnamon and nutmeg.

Sprinkle over raspberries.

Bake, uncovered, at 350° for 30-35 minutes or until pears are tender and mixture is bubbly.