These Raspberry Bars are super easy to make and even easier to become addicted to them.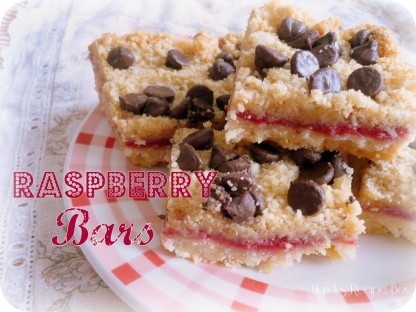 This is a great treat. It's crunchy on the bottom, chewy in the middle, and soft on top. It's a party in your mouth! It makes an 8×8 square pan, but you could double it to make a 9×13 size. I shared some with my friend and I told her she's gonna want to hide these so she could have them all to herself. I bet she did. It has just the right amount of chocolate chips to fill that chocolate need we all have.
Raspberry Bars
Ingredients
Crust:
1¼ c. flour
½ c. sugar
½ c. butter or margarine
Topping:
⅔ c. flour
½ c. chopped pecans (optional)
⅓ c. packed brown sugar
6 Tbsp. butter or margarine, softened
½ c. raspberry jam (or another kind you like)
2 c. milk chocolate chips ( I didn't use that much. I just sprinkled some over top.)
Directions
For Crust:
Combine flour and sugar in a bowl. Cut in butter with pastry blender or two knives until mixture resembles coarse crumbs. Press onto the bottom of a greased 8x8 or 9x9 pan. Bake at 375 degrees for 18-22 minutes until set but not brown.
For Topping:
Combine flour, pecans, and brown sugar in same bowl. Cut in butter with pastry blender. Spread jam over hot crust. Sprinkle with topping crumbs and chocolate chips. Bake at 375 for 15-20 minutes or until golden brown. Cool completely on a wire rack. Cut into bars.