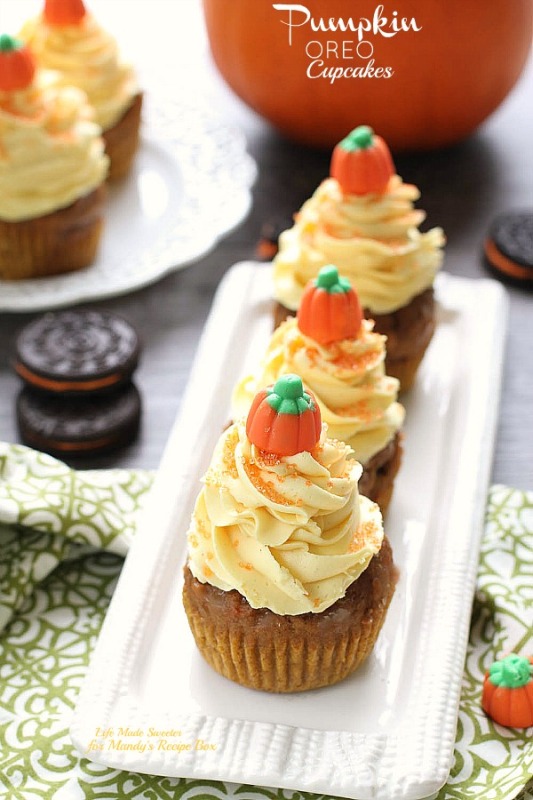 Hey everyone! It's Kelly from Life Made Sweeter back to share another fun fall recipe with you all! Halloween is creeping up on us and I'm sure you're already seeing pumpkins everywhere.  Today, I brought my favorite Pumpkin Cupcakes that I decorated in a fun and festive way! All you need are some Halloween or Pumpkin Spice Oreos, Smarties, an edible marker, sprinkles and chocolate chips and you can make some spooky Oreo cats too 🙂
These cupcakes are loaded with pumpkin and all your favorite fall spices.  They bake up fluffy and moist and when you top them with a swirl of the creamy Maple Cinnamon Frosting, they are totally irresistible!  You won't even have to pull out your mixer to whip up the cupcake batter which comes together easily in only two bowls! Then for a tasty surprise, fill each cupcake with a Halloween Oreo or a spoonful of pumpkin butter!
Tint the frosting and garnish the top with a pumpkin candy corn or another Halloween Oreo — either way, they'll be perfect for Halloween or Thanksgiving and you wont' be able to resist gobbling these up instantly!
Makes about 12 cupcakes
Ingredients:
For the pumpkin cupcakes:
1 1/2 cups all purpose flour
1 tsp baking powder
1/2 tsp baking soda
1/2 tsp ground cinnamon
1 tsp pumpkin pie spice
1/4 teaspoon salt
3/4 cup pumpkin puree, room temperature
1/2 cup granulated sugar
1/2 cup brown sugar, packed
1/2 cup vegetable oil
1/2 tsp vanilla extract
2 large eggs, room temperature
Filling – optional
12 Halloween Oreo cookies or 1/2 cup of Pumpkin Butter (I used Trader Joe's)
Maple Cinnamon Buttercream Frosting
1 cup unsalted butter, softened to room temperature
3-4 cups powdered sugar
2-3 Tbsp pure maple syrup
1-2 tsp heavy cream
2 tsp vanilla extract
1 Tbsp ground cinnamon
1/4 tsp salt or as needed
1/2 tsp orange gel food coloring *optional (I used Americolor Soft Gel in Orange)
Directions:
Preheat oven to 350 degrees. Line muffin tray with paper liners.
In a large bowl, whisk together the flour, baking powder, baking soda, salt, and pumpkin pie spice until combined. Set aside.
In a medium bowl, whisk together both sugars and eggs until well combined. Whisk in the pumpkin, oil and vanilla until fully incorporated. Pour the wet mixture into the dry ingredients and stir with a rubber spatula until just combined. Be careful not to overmix.
If not stuffing the cupcakes, divide batter evenly filling each muffin tin 3/4 full. Place into oven and bake for 18-22 minutes, or until a toothpick inserted in the center comes out clean.
If stuffing the cupcakes with Oreos or Pumpkin Butter, fill each cupcake liner a quarter way full then place one Oreo cookie or a scoop of Pumpkin Butter in the middle of the muffin tin. Continue to fill with the rest of the batter filling each about 3/4 full.
Remove from oven and cool completely on a wire rack before frosting.
To make the Frosting:
Using a hand or stand mixer, beat butter on medium speed until light and fluffy, approximately 2-3 minutes. Add vanilla, maple syrup, heavy cream and cinnamon and continue beating until well combined. Turn mixer to low speed and slowly add powdered sugar, beating until just incorporated. Increase speed to medium high and beat for an additional 2-3 minutes until frosting is fluffy and creamy.
Add more powdered sugar if frosting is too thin or more cream if the frosting is too thick. Taste the frosting and add a 1/8 or 1/4 tsp of salt if frosting is too sweet.
Add 1/2 tsp Orange gel food coloring if desired. (Optional).
Use a small offset spatula or a pastry bag fitted with a Wilton 1M tip to frost the cupcakes, Top with pumpkin candy corns or an Oreo cookie, if desired.
To make the Spooky Oreo Cats
Untwist the Oreo cookie.  Place a Smarties or M&M Candy and attach to the cookie for the eyes.
Using a toothpick dipped in frosting, attach a pumpkin sprinkle to the cookie for the nose.
Dip the flat part of the chocolate chips in the frosting and attach to the top of the cookie for the ears.
With the black edible marker, draw the center of the eyes on the Smarties or M&M.
Thanks for letting me share here with you again today!  
You can stay connected with Kelly here: