Pumpkin Heavenly Oreo Dessert is a delicious fall version of the original Heavenly Oreo Dessert. Pumpkin pudding gives it that cozy fall flavor that we all love.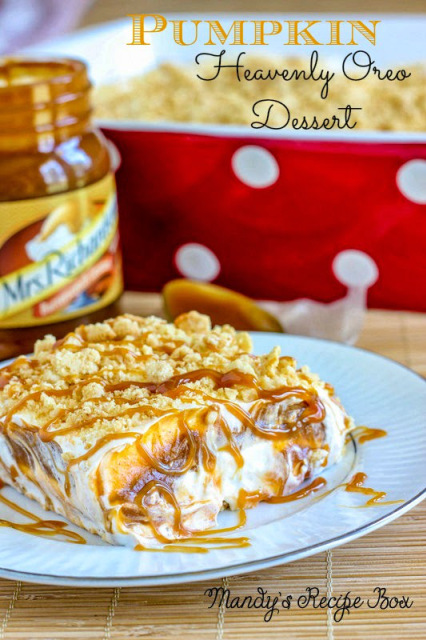 These Heavenly Oreo Desserts continue to be reader favorites here on Mandy's Recipe Box. There is the original
Heavenly Oreo Dessert
and the
Lemon
version. So of course I had to make a Pumpkin version! And then I had to give 3/4 of it away because it's too dangerous to keep the whole thing in my fridge.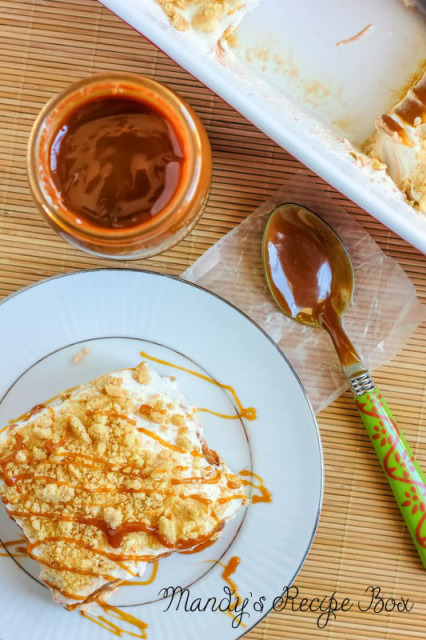 Pumpkin Heavenly Oreo Dessert
Ingredients
1 (14.3 oz.) package of Golden Oreo cookies
½ c. butter, melted
2 pkg. (3.4 oz each) Pumpkin Spice Instant Pudding
3¼ c. cold milk
2 containers (8 oz. each) Cool Whip
8 oz. cream cheese, softened
1 c. powdered sugar
Caramel ice cream topping for drizzling (I used Mrs Richardson's butterscotch caramel topping)
Directions
Crush all Oreo cookies in a food processor until crushed. You could also put the cookies in a large resealable bag and crush using a rolling pin.
Save ½ c. of the crumbs for the topping.
Pour the remaining crumbs into a 9x13 dish and add the melted butter.
Stir and press into the bottom of the dish to make a crust.
In a bowl, whisk together the pudding mix and milk.
Set in the fridge for now.
Blend cream cheese until smooth.
Add powdered sugar.
Mix and fold in one container of Cool Whip.
Spread over the crust.
Add pudding and spread over the cream cheese mixture.
Top with the other Cool Whip.
Sprinkle the ½ c. Oreo crumbs over top.
Drizzle with Caramel topping.
Keep refrigerated until ready to serve. Refrigerate leftovers.