Hi there!  Renee from
Renee's Kitchen Adventures
back with another delicious indulgent recipe,
Pumpkin Cinnamon Streusel Coffee Cake
!  This moist coffee cake is full of the fall flavors of pumpkin, cinnamon and pecans and doused in delicious streusel topping no one can ever seem to get enough of from the inside out!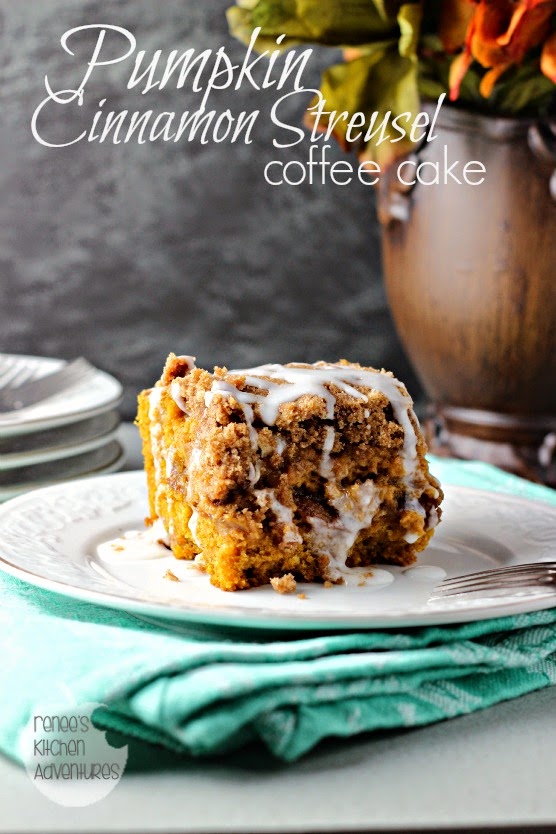 When I was trying to decide what to make for Mandy this month, I knew I wanted it to have pumpkin as an ingredient.  It is the season of pumpkin afterall.  When I found a recipe at
Sally's Baking Addiction
for a pumpkin coffee cake, it reminded me of a recipe I had posted long ago for a
Cinnamon Streusel-Filled Coffee Cake
so I sort of merged the two recipes and this amazing cake is what I got!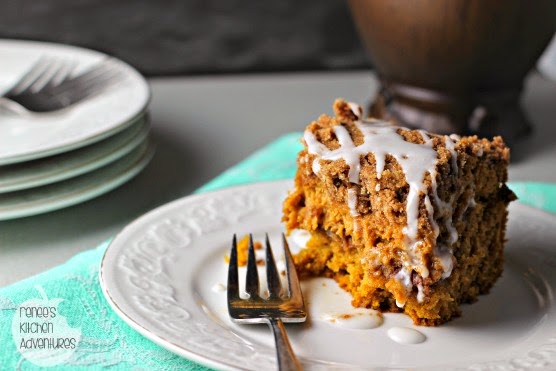 What makes it amazing is what I loved about the recipe I already have on my blog. The streusel is not only on the top but in the middle of the cake too!  Which pretty much makes it doubly delicious.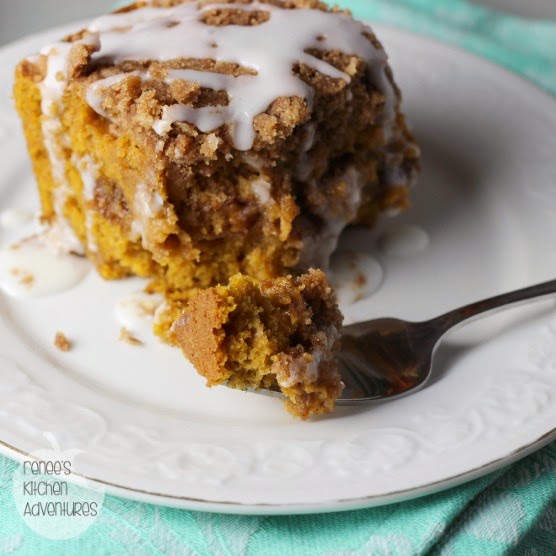 This cake has fast become a favorite of everyone who has tried it!  It's the perfect indulgent treat with an afternoon cup of coffee or tea!
Pumpkin Cinnamon Streusel Coffee Cake
Rich, moist pumpkin flavored coffee cake with a delicious pecan streusel topping and middle layer covered in powdered sugar icing. Ingredients
Ingredients
FOR THE STREUSEL LAYERS:
½ cup all purpose flour
¼ cup unsalted butter, cold cut into cubes
½ cup light brown sugar
2 tsp. ground cinnamon
pinch of salt
½ cup chopped pecans
FOR THE COFFEE CAKE:
2 cups all purpose flour
½ tsp. baking powder
1 tsp. baking soda
½ tsp. salt
1 tsp. ground cinnamon
½ tsp. ground ginger
¼ tsp. fresh ground nutmeg
1 cup pure pumpkin puree
½ cup light brown sugar
½ cup canola oil
½ cup low-fat buttermilk
1 large egg, slightly beaten
1 tsp. pure vanilla extract
FOR THE ICING:
1 cup powdered sugar
1-2 TBS milk
Directions
Preheat oven to 350 degrees F. Spray an 8"x8" glass baking dish with cooking spray and set aside.
Place all ingredients for streusel, except pecans, in a food processor and pulse a few times until butter is the size of peas. Add in the pecans and pulse once to combine. Set aside.
In large bowl, combine the 2 cups flour, baking powder, baking soda, salt, cinnamon, ginger, and nutmeg. Whisk to combine.
In a medium sized bowl, combine the pumpkin puree, canola oil, buttermilk, vanilla and egg.
Pour the wet ingredients into the dry cake ingredients and stir until JUST COMBINED. Do not overmix. Pour half of the batter into your prepared pan and smooth the top. Sprinkle half the reserved struesel onto the batter. Pour the remaining batter over the streusel layer and smooth out top again. Sprinkle remaining streusel topping onto the top of the cake. Press down lightly.
Bake in oven for 35 -40 minutes, or until a toothpick inserted into middle comes out mostly clean. This is a moist cake, so it will not be completely clean, but it should not have wet batter on it.
Remove from oven and cool for 15 minutes. Make icing by whisking powdered sugar and milk to make a thin glaze. Pour over top of cake. Serve cake warm (incredibly delicious) or at room temperature. Store leftovers in refrigerator.
If you like this recipe, check out these other fall flavored inspired recipes on my blog! 
Like what you see?  Follow RKA on all these social networks!!