It's Amy again from
My Name Is Snickerdoodle
and I am completely over the moon about this next recipe I'm about to share with you!  It was one of those recipes that kept me up at night and I couldn't wait to create it in the morning.
Even though everyone's been posting and pinning pumpkin themed recipes for the last month or so, October is always the official pumpkin month for me.  And these pancakes are just how I kicked it off!  I took my simple Buttermilk Pancake recipe and altered it with a bit of pumpkin puree, cinnamon and mini chocolate chips.  Sounds fab, right?  Truth be told, it's actually the Orange Buttermilk Sauce that puts this breakfast over the top!  I mean, take a look…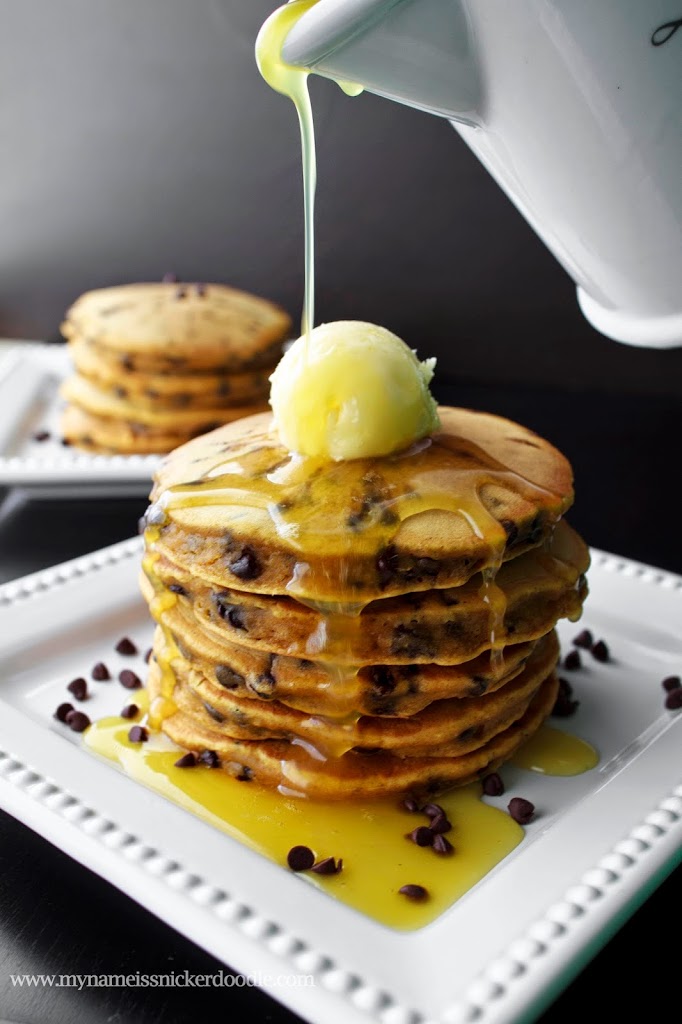 Not enough sauce drizzling over that big knob of butter?  Okay, let's just drown these pancakes and not feel any guilt whatsoever!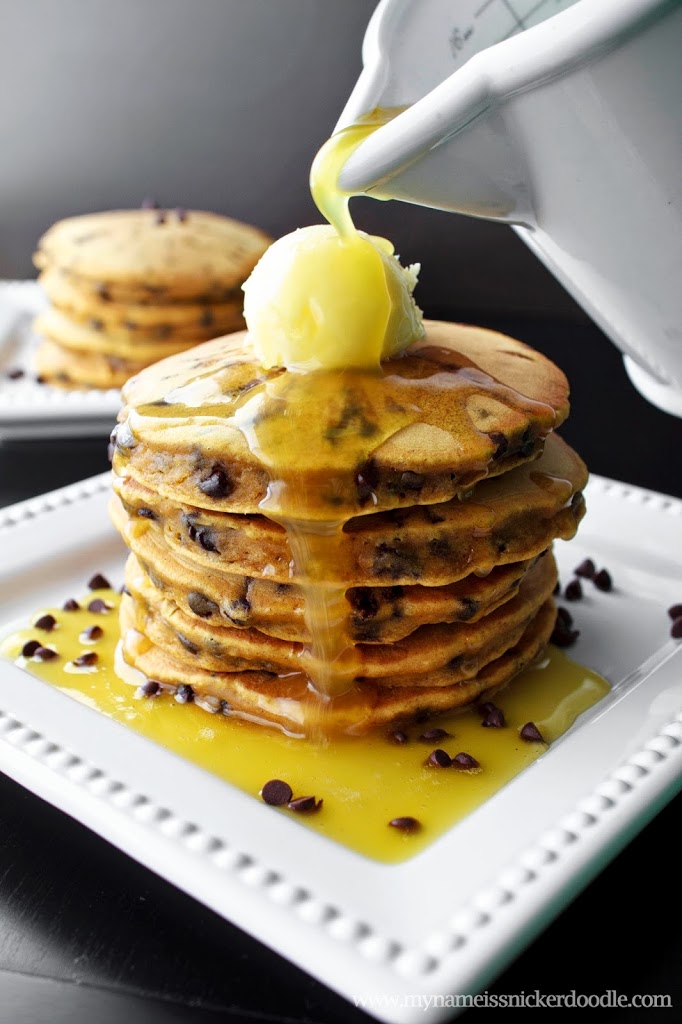 Truth be told, with this stack, you might want to share with a loved one…or not!  I won't tell!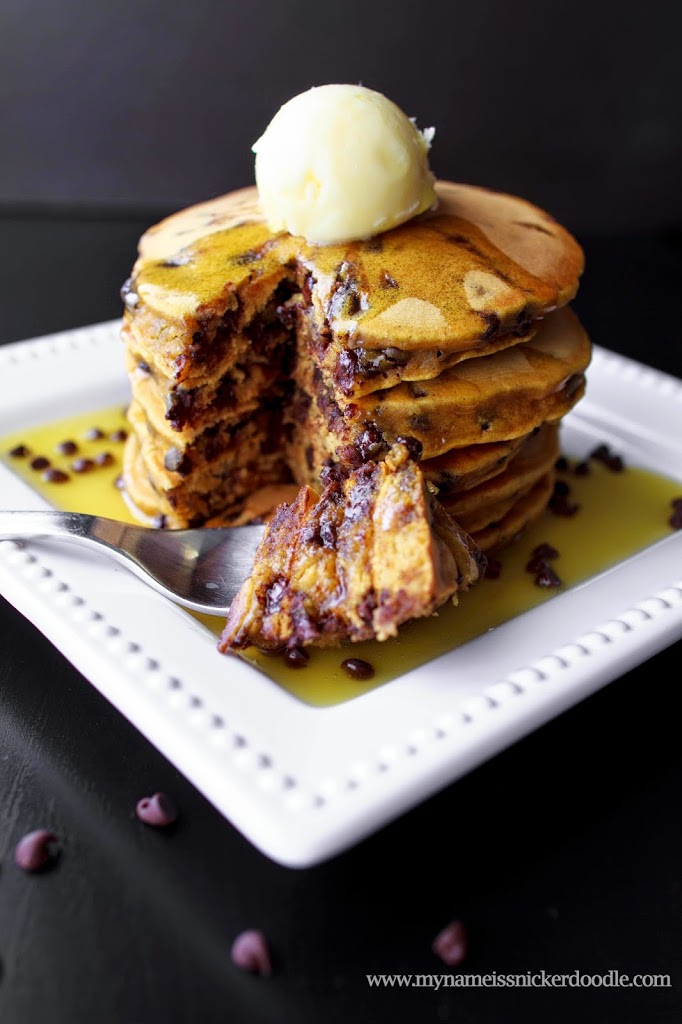 Pumpkin Chocolate Chip Pancakes with Orange Buttermilk Sauce
Pancakes (Makes 10 Pancakes)
1 egg
3/4 cup granulated sugar
1/4 cup canola oil
1 cup buttermilk (or milk)
3/4 cup pumpkin puree
1 tsp baking soda
1 tsp baking powder
1/4 tsp salt
3/4 tsp cinnamon
1 1/2 cups all purpose flour
1 cup mini chocolate chips
Sauce
1/2 cup granulated sugar
1/2 cup brown sugar
1/2 cup butter
1/4 cup buttermilk (or milk)
1/4 cup freshly squeezed orange juice
1/2 tsp baking soda
1 tsp pure vanilla extract
1 TBSP orange zest (about 1 large orange)
Making the pancakes:  In a large bowl beat together egg, sugar, oil, buttermilk and pumpkin puree.  In a medium bowl whisk together baking soda, baking powder, salt, cinnamon and flour.  Add the dry ingredients into the wet ingredients and mix until just combined.  Fold in the chocolate chips.  Over a medium high heat griddle (about 325 degrees) use a 1/3 measuring cup to pour batter onto the hot surface.  Cook until tiny bubbles start to pop up in the middle about 3 minutes.  Flip and continue to cook for about 1-2 minutes or until the center is cooked through.
Making the sauce:  In a medium sauce pan over medium high heat, combine sugars, butter, buttermilk and orange juice.  Bring to a boil and continually whisk for one minute.  Remove from heat and stir in baking soda, vanilla extract and orange zest.  Syrup will start to foam.   Let it sit for about 10 minutes and stir down the foam until syrup consistency.  Serve warm.
Here are some of my other favorite pumpkin recipes I think you'll love…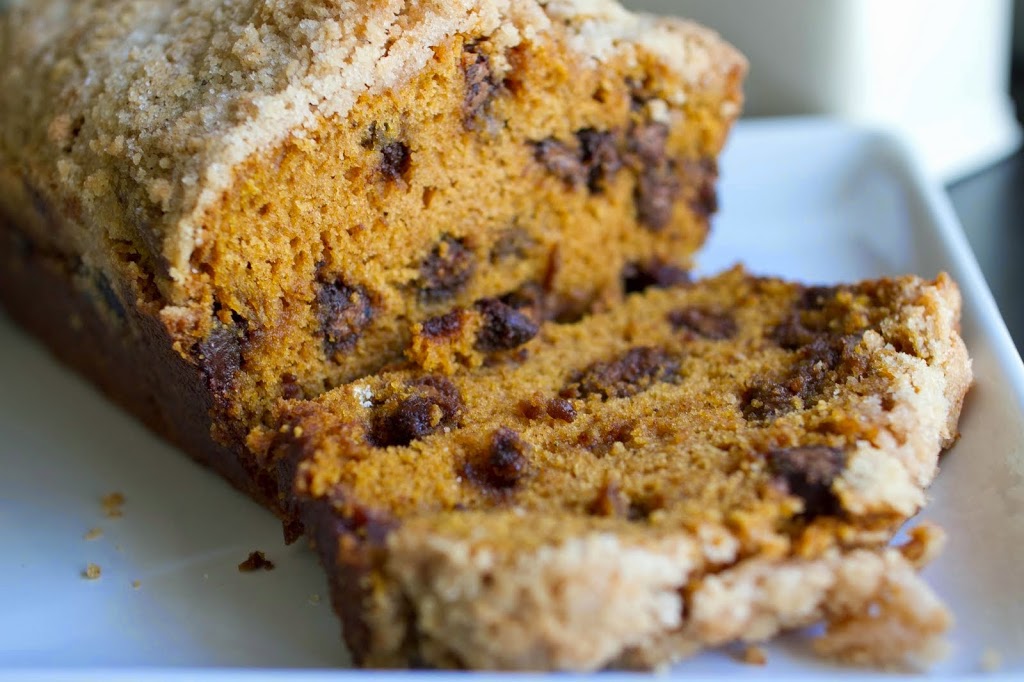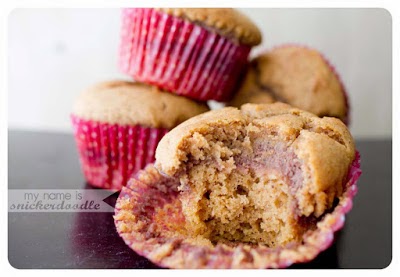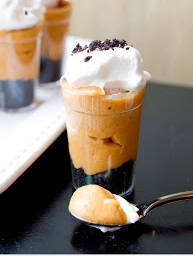 For more fabulous recipes you can also find and follow me here…