I am sharing this recipe because I had a hard time finding one on the internet that I liked. You'd think there'd be a lot of Pumpkin Chocolate Chip cookie recipes out there, but you'd be wrong. Some people have never heard of these, can you believe it? Crazy. These are so light when you hold them, but the flavor is incredible. Your house will actually smell cozy and warm.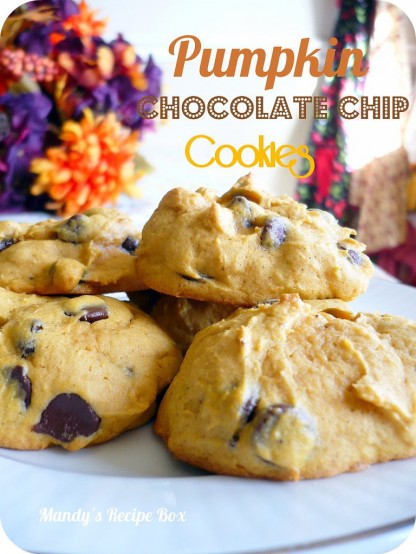 1 egg
1 tsp. vanilla
2 1/2 c. flour
1 tsp. baking powder
1 tsp. baking soda
1/2 tsp. salt
1/2 tsp. ground ginger
1 tsp. nutmeg
1 tsp. cinnamon
1 (12 oz) bag Chocolate chips
1 small can (15 oz) Pumpkin
Mix shortening, sugar, egg & vanilla. Add baking powder, baking soda, salt, and spices. Add in flour and chocolate chips. Add pumpkin last. Drop onto a greased cookie sheet. Bake at 400 for 10 minutes.