This is such a yummy fall dessert. I love
pumpkin cookies
and this cake takes baking with pumpkin to a new level of deliciousness.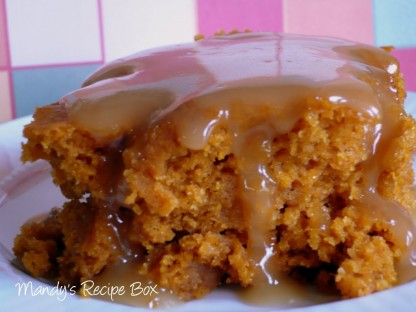 Pumpkin Cake with Cider Caramel Sauce
1 c. sugar
1 1/2 c. flour
1 1/2 tsp. baking powder
1 1/2 tsp. baking soda
1 1/2 tsp. cinnamon
1/2 tsp. salt
3/4 c. oil
1 (15 oz) can pumpkin
2 eggs
Cider Caramel Sauce
1/2 c. brown sugar
1 Tbsp. cornstarch
2/3 c. apple cider
2 Tbsp. heavy cream
1 Tbsp. butter
salt to taste
Directions
For the cake, combine the sugar, flour, baking powder, baking soda, cinnamon, and salt.
Add oil, pumkin, and eggs.
Whisk until blended.
Pour into a greased 9×13 pan.
Bake at 325 degrees for 30 minutes.
For the sauce, in a saucepan, whisk brown sugar and cornstarch.
Add cider and stir in the cream, butter and salt.
Cook over med-hi heat, whisking constantly, until large bubbles form around the edge of the saucepan, about 3 minutes.
Reduce heat to low and allow to thicken, about 2 minutes.
Top with vanilla ice cream if you want and drizzle sauce over it.