I love love love these cookies. They are so cameleon-esq. Whatever flavor of pudding you use, that's what they will taste like. I chose chocolate for this batch and wasn't disappointed. Soft and gooey, just like cookies are meant to be.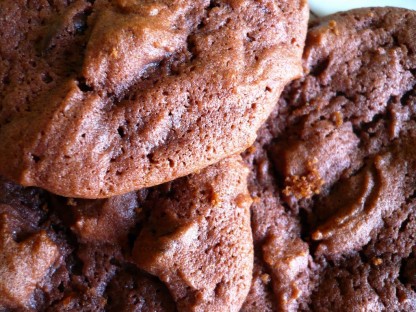 1 cup (2 sticks) butter or margarine, softened
3/4 cup firmly packed brown sugar
1/4 cup granulated sugar
1 pkg. (4-serving size) JELL-O Instant Pudding, any flavor-I used chocolate
1 tsp. vanilla
2 eggs
2-1/4 cups flour
1 tsp. baking soda
1 pkg. (12 oz.) Semi-Sweet Chocolate chips
Preheat oven to 375°F. Beat butter, sugars, dry pudding mix and vanilla in large bowl with electric mixer on medium speed until well blended. Add eggs; mix well. Gradually add flour and baking soda, beating until well blended. Stir in chocolate chips. (Dough will be stiff.)
DROP teaspoonfuls of dough, 2 inches apart, onto ungreased baking sheets.
BAKE 8 to 10 minutes or until golden brown. Remove from baking sheets. Cool completely on wire racks.