This Philly Cheese Steak Egg Rolls recipe is a yummy variation the original egg roll. Serve them as appetizers or a main dish with some fries on the side!

I like deep frying food. It's fun. It's also fun to see what kinds of different foods you can make. Like Taco Won Tons or Won Ton Kisses, which you must try. Immediately. I also love egg rolls. If you don't, just give these a try. They are not your typical Chinese Egg Rolls. Nope. They are Philly Cheese Steak Egg Rolls. They're amazing. 
This is the meat I used. I found it at Wal-Mart.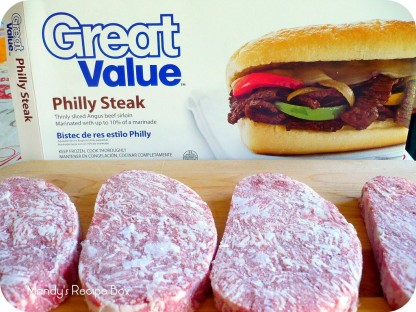 Philly Cheese Steak Egg Rolls
Ingredients
1 Tbsp. oil
1 onion, chopped
1 (12.5 ounce) package frozen sandwich steak meat
1 (14 ounce) package egg roll wrappers
Slices of Provolone or other cheese
2 cups oil for frying, or as needed
Directions
Heat skillet with the tablespoon of oil over medium heat. Add onion; cook and stir until onion is translucent, about 5 minutes.
Add frozen steak into skillet. Cook and stir until steak is no longer pink, breaking it up with a spatula as it softens, about 10 minutes. Remove from heat and set aside.
Arrange egg roll wrappers on a flat surface so it looks like a diamond; place a slice of cheese on each one, towards the bottom. Layer an equal amount of steak mixture on top of each cheese slice. Roll up egg rolls according to package directions, and seal edges, wetting with water if necessary.
Fry in oil in a skillet on all sides until golden brown. Drain on paper towels.