We at
Made From Pinterest
are excited to be here today at Mandy's Recipe Box! And we hope that you are a peanut butter lover because boy do we have a great recipe to share with you!
Take a look at these Peanut Butter Oatmeal Sandwich Cookies that I pinned from
Broma Bakery
! Now this is my kinda sandwich!
I have two daughters who are both married and let me tell you, we certainly lucked out on who they married. I LOVE my relationship with my two sons-in-law. In fact my youngest daughter and her husband are living with us right now and it is SO fun to have them here.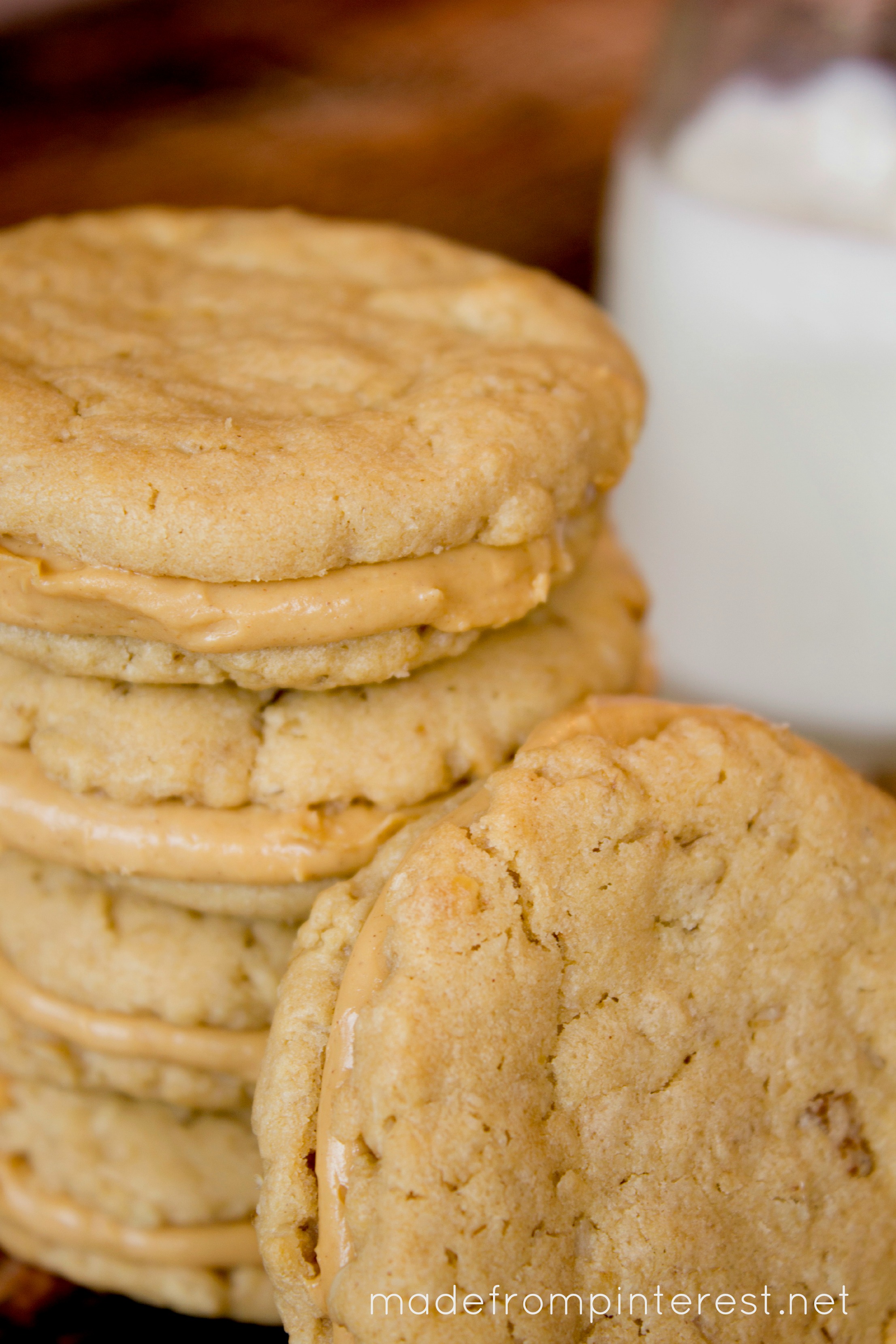 I LOVE spoiling these guys by cooking food for them. So while my son-in-law is here with us I wanted to make him these Peanut Butter Oatmeal Sandwich Cookies because he loves peanut butter. No I mean he LOVES ANYTHING peanut butter. Like in peanut butter smoothies, peanut butter sandwiches, peanut butter frozen yogurt. TOTAL PEANUT BUTTER LOVE. His second favorite thing is chocolate. So when he saw these cookies cooling and I told him that I was making a peanut butter creme filling for them, he said… "You know what might also be good with these? Nutella."
Brilliant.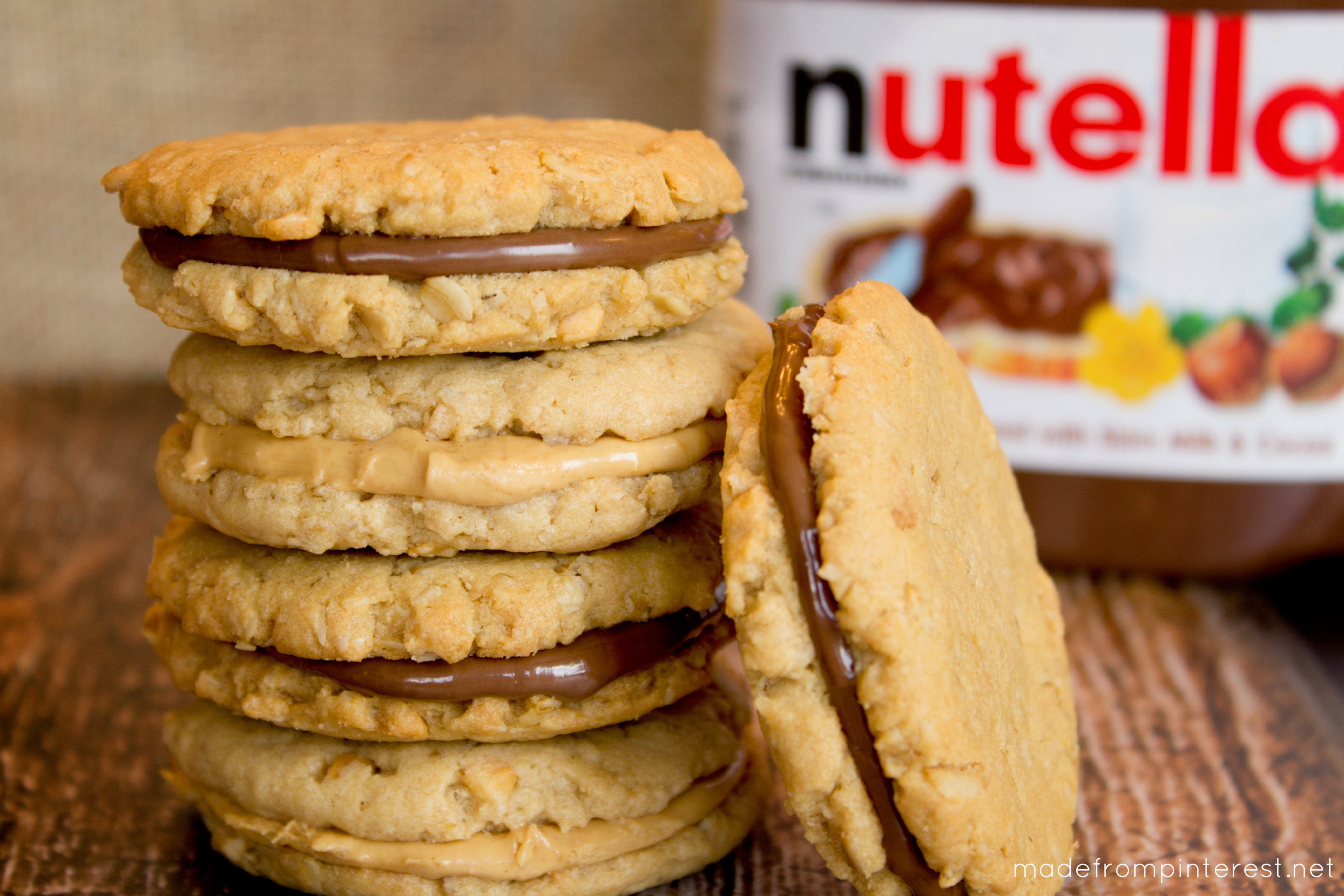 I had to shoo him out of the kitchen until these pictures were taken but after that, they were gone. I did manage to eat my share and this will be a cookie that we will definitely be making again and I hope that you will too! Enjoy!
Peanut Butter Oatmeal Sandwich Cookies
Author:
Made From Pinterest
Ingredients
Cookie ingredients:
1½ cups quick oats
¾ cup flour
½ cup sugar
½ cup brown sugar
½ teaspoon baking powder
½ teaspoon baking soda
½ teaspoon salt
½ teaspoon vanilla extract
½ cup smooth peanut butter
½ cup unsalted butter, softened
¼ cup honey
1 egg
Creme Filling:
½ cup powdered sugar
1 cup smooth peanut butter
And if desired, some Nutella
Directions
Preheat your oven to 350°F.
In a medium bowl, combine the oats, flour, baking powder, baking soda, and salt and mix well. Set aside.
In a large bowl or KitchenAid mixer, cream your butter, both sugars, egg, peanut butter, honey and vanilla.
Now take your dry oat mixture and pour it into your peanut butter mixture until just combined.
Drop in a rounded teaspoonful on an ungreased cookie sheet. Make sure to leave some space in between cookies because you now need to flatten the dough into a disk shape. You can use either just your fingers or I used the bottom of a glass. Just evenly press the bottom of a glass on top of your rounded cookie dough.
Bake for 8-10 minutes or until cookie is lightly browned. Let cool.
Creme Filling:
Blend together the 1 cup peanut butter and ½ cup powdered sugar for about 5 minutes.
Place half of your cookies upside down and drop about a tablespoon of filling in the middle. Then place another cookie on top and press evenly until the filling spreads just to the edges.
The Nutella also makes a great filling!

If you like these Peanut Butter Oatmeal Sandwich Cookies, check out these other cookie recipes!
Revolution Cookies