If you have been reading my blog for a while, you know of my love for Heavenly Oreo Desserts. I made a new version! It's the Peanut Butter Heavenly Oreo Dessert and it has mini Reese's Peanut Butter Cups inside. You guys. It's amazing.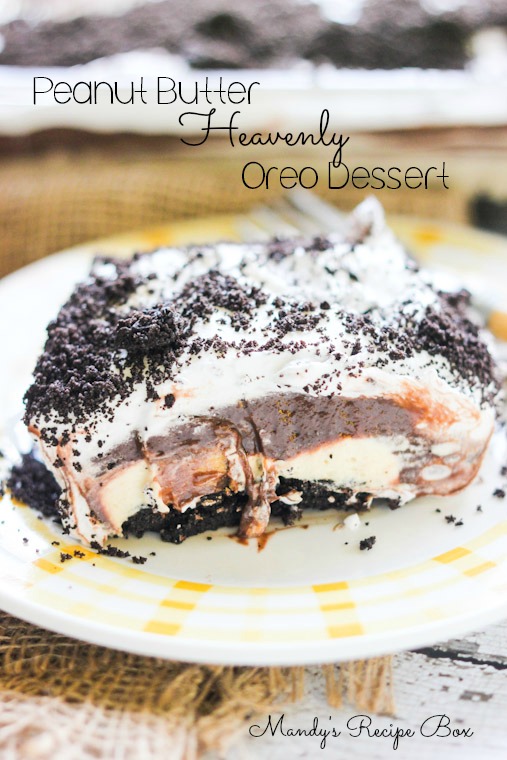 Just like the others, this dessert starts with a base of crushed Oreos and butter. I used regular Oreos, but have you seen the new
Peanut Butter Oreos
? That would be delicious as a base!
The crust is always a favorite part of this dessert for me. The butter is melted and mixed with the Oreos and then refrigerated and hardened up again. I love that. The peanut butter cream cheese mixture is really good, too. So is the pudding and Cool Whip. It all just tastes amazing, so get in the kitchen and make this. It's an easy no-bake dessert that everyone will love.
Peanut Butter Heavenly Oreo Dessert
Ingredients
1 package Oreo cookies (around 15 oz package)
½ c. butter, melted
2 pkg. (3.9 oz each) Chocolate Instant Pudding
3¼ c. cold milk
2 containers (8 oz. each) Cool Whip
8 oz. cream cheese, softened
1 c. powdered sugar
½ cup creamy peanut butter
1 cup Reese's Minis
Directions
Crush all Oreo cookies in a food processor until crushed. You could also put the cookies in a large resealable bag and crush using a rolling pin.
Save ½ cup of the crumbs for the topping.
Pour the remaining crumbs into a 9x13 dish and add the melted butter.
Stir and press into the bottom of the dish to make a crust.
In a bowl, whisk together the pudding mix and milk.
Set in the fridge for now.
Blend cream cheese until smooth; add peanut butter and mix again.
Add powdered sugar and mix.
Mix and fold in one container of Cool Whip.
Spread over the crust.
Add pudding and spread over the cream cheese mixture; sprinkle Reese's Minis on top.
Top with the other Cool Whip.
Sprinkle the ½ c. Oreo crumbs over top.
Keep refrigerated until ready to serve. Refrigerate leftovers.