I came across this recipe and just needed to try it. I love pasta. I love beans. And together, yum. This is a great winter day soup. We just got dumped on with snow. This is the kind of day I love. Nowhere to go, all cozy in my house with some blankets, a great book, and some soup. Couldn't be better. Oh, wait. And my Diet Coke. There you go. Perfect.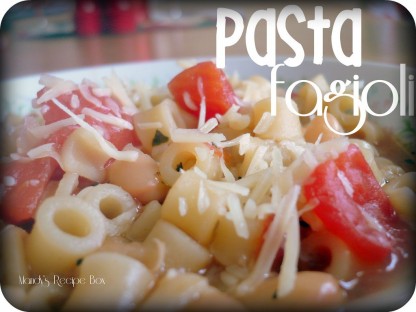 2 cans (14.5 oz. each) beef broth
1 can (16 oz.) Great Northern Beans, rinsed and drained
1 can (14.5 oz.) diced tomatoes, undrained
2 medium zucchini, quartered lengthwise & sliced
1 Tbsp. oil
1 1/2 tsp. minced garlic
1/2 tsp. basil
1/2 tsp. oregano
1 1/2 c. small pasta shells, uncooked
1/2 c. Romano or shredded Parmesan cheese
Combine all but the pasta and cheese in a slow cooker. Cover, cook on low 3-4 hours. Stir in pasta. Cover, cook another hour or until pasta is tender. Serve with cheese on top. You could also do this on the stove. Cook the pasta. Meanwhile combine the rest except the cheese in a large pot. Once pasta is done, add to the pot. Serve with cheese on top.